A story about revitalizing rural Colorado at CampV.
The other day I saw an ad somewhere for an AI writing tool that wrote your blogs and other content for websites. While I recognize this is nothing new, it caught my attention as I sat down to write my travel story about stargazing in southwest Colorado. I began to think, is this the demise of writers, bloggers, and journalists? Surely not. Yes, I suppose a robot could produce quick and simple content for your ad or website page but it can't capture the human connection needed to tell a story. 
Now more than ever it's about connecting people and places when we talk about travel journalism. Whether that is through print or online, a robot cannot capture the human experience of traveling to a new place; what it smells like, tastes like, and feels like. It's an innate human behavior to want to connect with others and share those stories with one another.
Recently, I did an interview with someone who expressed her disdain for travel and how it does nothing to help the environment. While I couldn't agree with her more, I did politely remind her that travel is one of the best avenues to connect with people outside your own little bubble. Without travel, how would we understand the world and how it works?
Reviving Rural Colorado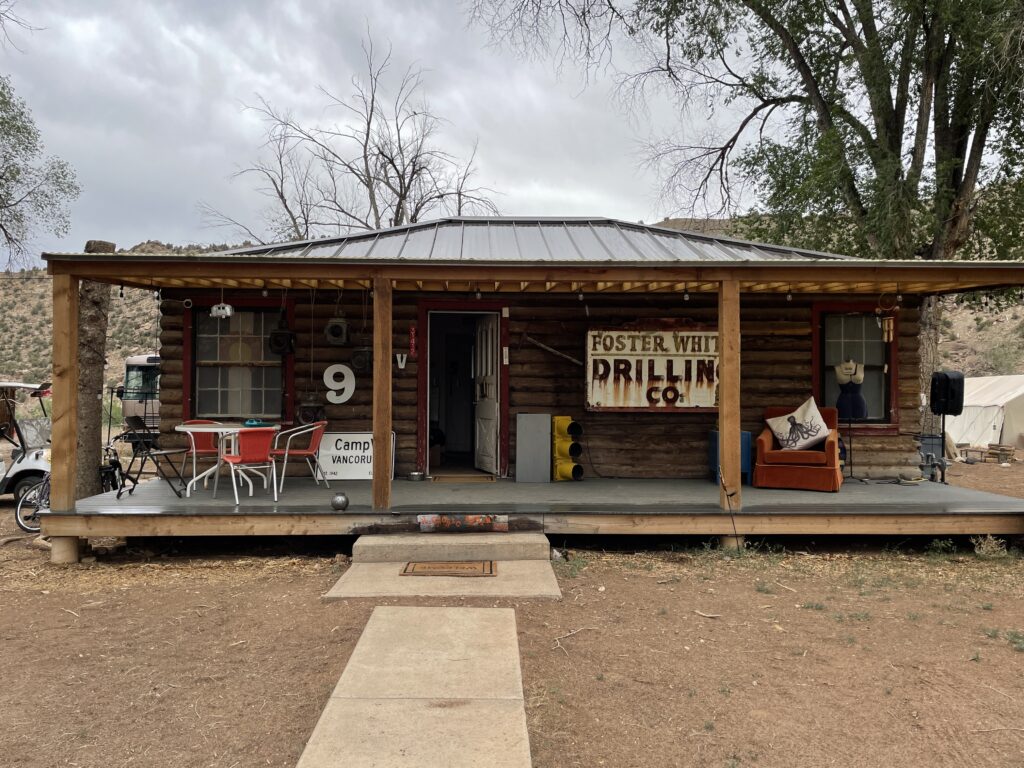 I was quickly reassured of this sentiment during my trip to the Western Slope of Colorado. Located in the hamlet of Naturita, CampV is a historic boutique camp that thrives on the love of its community and its dedication to reviving rural Colorado. CampV was once home to the old mining camp, known as Vancorum, built in 1942 to house those working on the nearby Uranium Mill.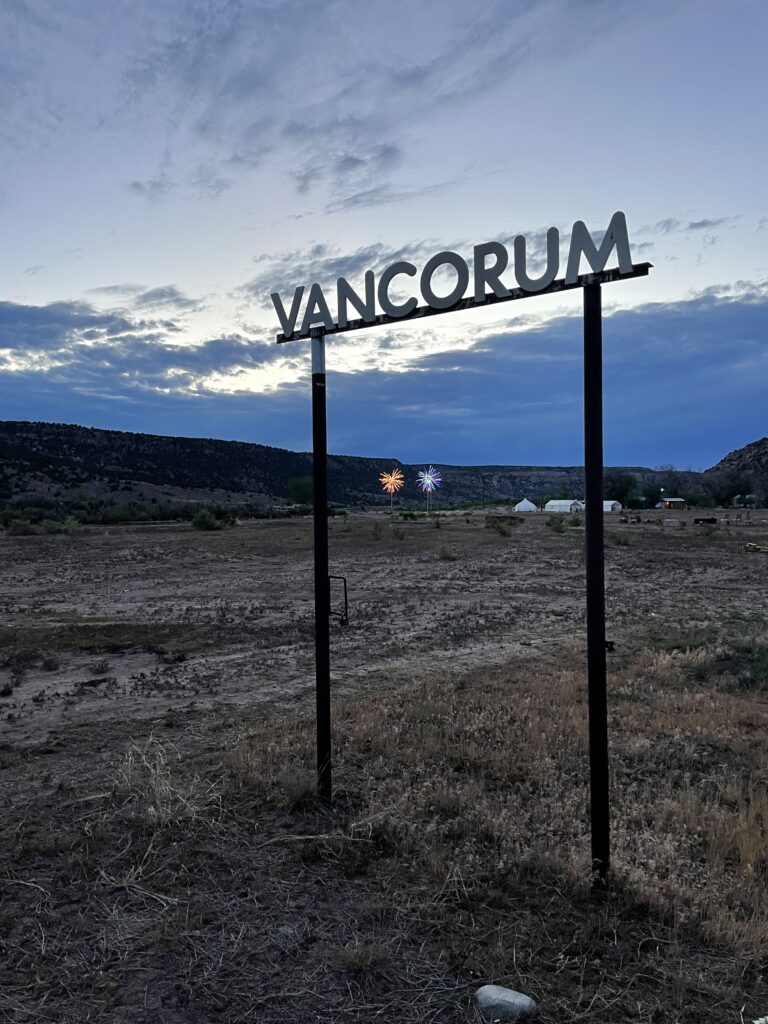 Since closing down in the 1970s, the property was bought and operated as a rental community for years. In 2017 the property was once again acquired by new owners of StudioVille, who have since restored the old mining camp. The historic cabins, previous homes of the mining bosses at Vancorum, were turned into contemporary spaces for the want-to-be camper who likes their modern amenities, like me!
VLOVE is Real
Upon my arrival, I began the short drive up the hill to CampV where I initially noticed a sign that said VLOVE is Real. VLOVE? What is that? Not thinking too much of it, I pulled up to the cabin I had reserved for the next few nights, where I was instantly greeted by Bree, the camp host. Bree brought me up to speed on how things worked at CampV, plus a simple explanation of what VLOVE really meant. But you'll have to visit to find out for yourself!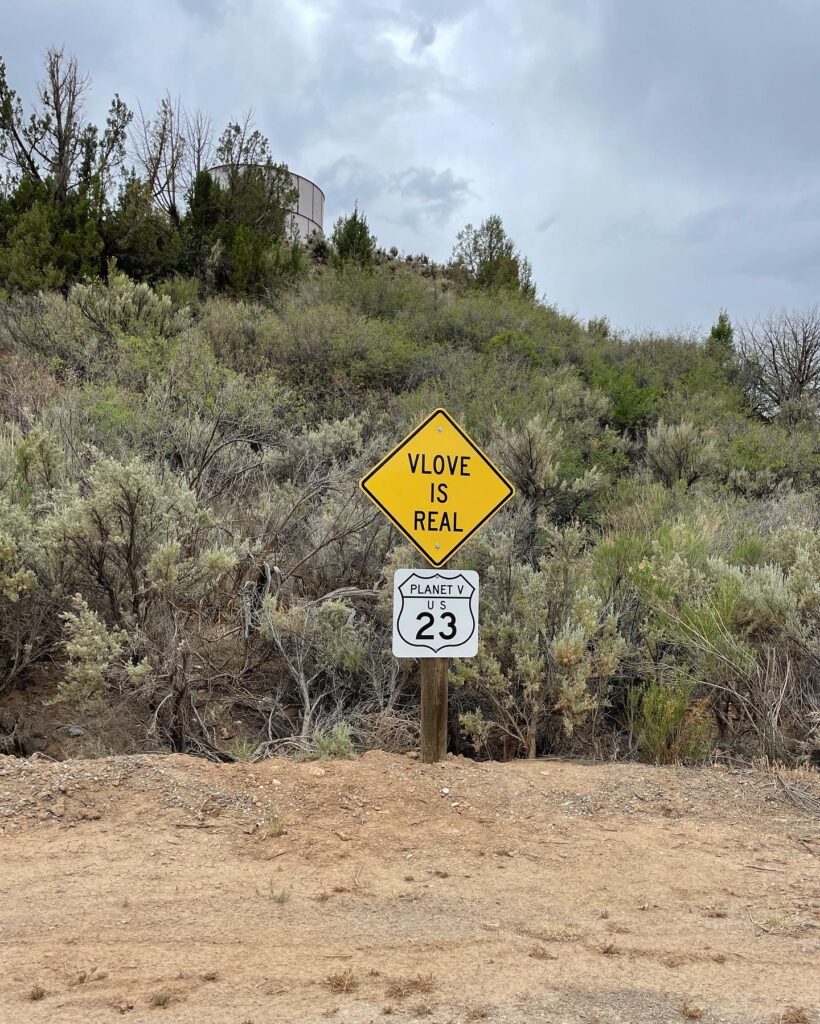 Designed to be a place where you can connect to community, art, and people, CampV is meant to be more than just a place to stay but a place that inspires and revitalizes rural communities. This is what intrigued me the most. I have spent much of my time in Colorado's most rural communities, from the Eastern Plains to the Western Slope and a common thread that runs through all of them is the struggle to pump new life into their communities but at the same time not losing the story of who they are.
CampV provides a sort of rural revival of this once booming mining town that dried up as soon as the mines closed. But rather than scraping and starting brand new, they worked to preserve the history of the area while also creating a new story that captures today's modern traveler and the ever-curious. 
Glamping in Colorado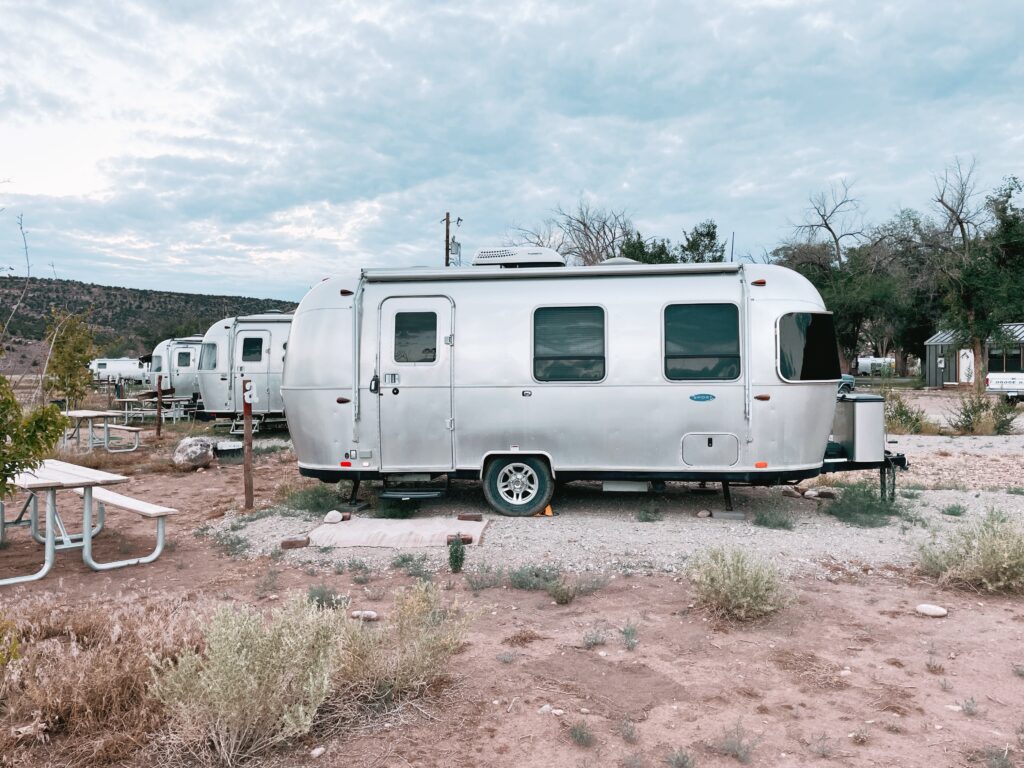 The high-desert glamping oasis rests on 120 acres of land with 14 fully restored cabins, several airstreams, and some glamping tents. And for those who remember when camping was just camping, there are several spots you can pitch your tent.
A walk around the property revealed an eclectic display of artwork and immersive installations, plus enough open space to discover what CampV really means to you. As I was taking inventory of the property my initial feeling was this must be what Burning Man is like.
So, it came as no surprise to me to learn that the stand-alone chapel, better known as "Prairie Wind Chapel" was originally built for Burning Man in 2015 and has been named one of the "most incredible works of Burning Man art ever made." It now makes its home at CampV along with other artful installations such as the electric dandelions, the "unkonwn zone" of colorful doors to another portal, and the gigantic metal bus that is home to many social gatherings no doubt.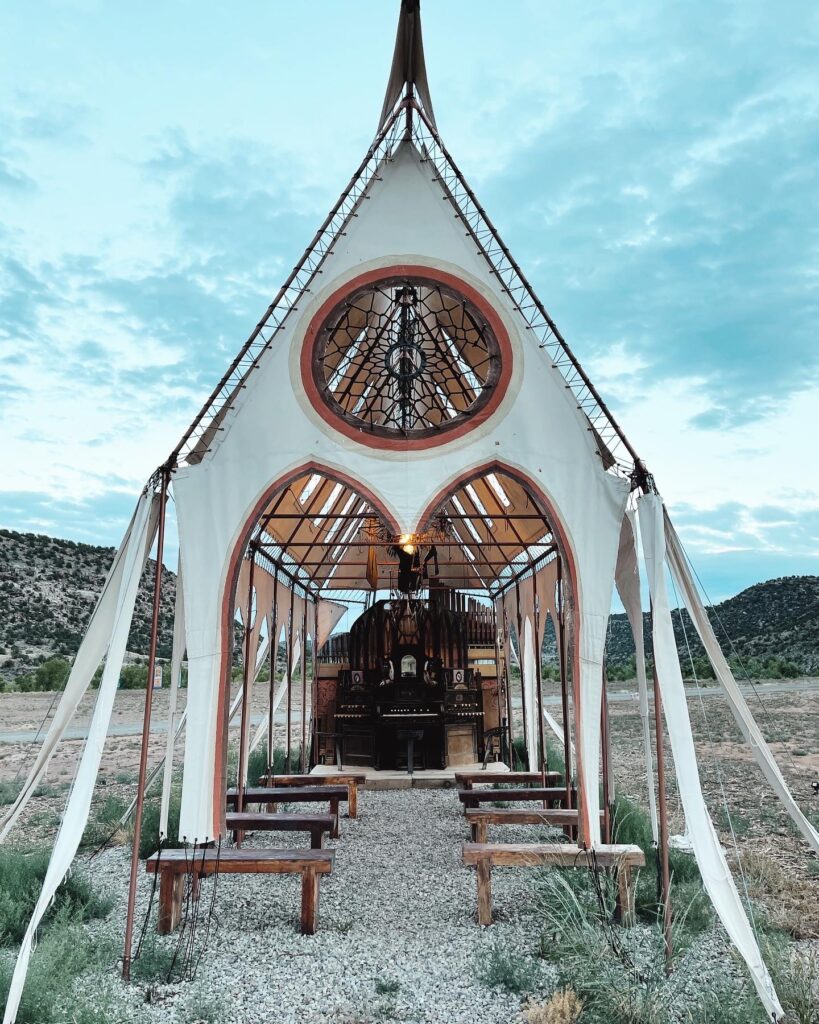 Experience the West End of Colorado
During the day, guests can enjoy hiking and mountain biking, including a few trails you can catch right from your doorstep. At night, I highly recommend signing up for the snuggle and stargaze package. The towns of Naturita and nearby Nucla recently received their International Dark Sky Designation for having some of the darkest skies in the world.
The package includes an adult beverage, warm cookies, and incredible views from the Water Tower. Inside, perfectly prepared bed-like accommodations allow for gazing at the stars while staying warm. They also host yoga, meditation, and sound healing classes from the water tank.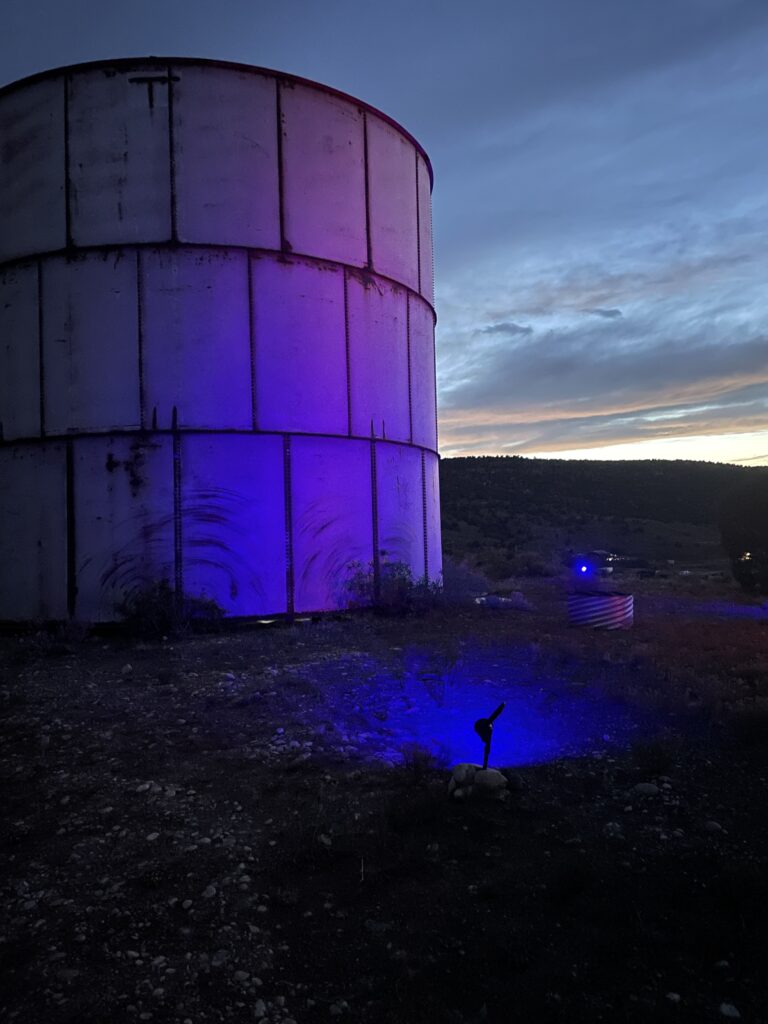 I would highly suggest (if you didn't bring food with you) ordering from their farm-to-cabin menu. The menu is curated by the local purveyors, Wild Gals and Mesa Rose Farms. You can place your order based on the available menu 24-48 hours in advance. Bottles of wine are even available, a must for any glamping experience. The food is delicious and refreshingly healthy compared to the bleek dining options in town. 
While my stay at CampV didn't lend itself to much chatter, my sense from Bree and others who I talked to in the community that this is a place where you can come together for a true sense of community, not just another place to stay. That the love here is real and in fact VLOVE does exist. 
Make CampV your jumping-off point for exploring Colorado's West End. And discover a connection with a community of people you will never be able to get with a robot.  
For more about rural Colorado, follow along at Small Town Stops.
*all photos were taken by me and are subject to copyright.