Backpacking in the Black Canyon of the Gunnison all started with an innocent bucket list item of mine, to visit every one of the U.S. National Parks. Having already explored the other three parks in Colorado, the Black Canyon was last on the Colorado list. But I didn't just want to peer out from the rim of the canyon, I wanted to hike down to the bottom.
The Black Canyon is the least visited park in the state, mainly due to its remoteness and its limited accessibility. But its unique landscape has always fascinated me and when I visited for the first time years ago and peered down into its depths, I knew I need to get down in there somehow!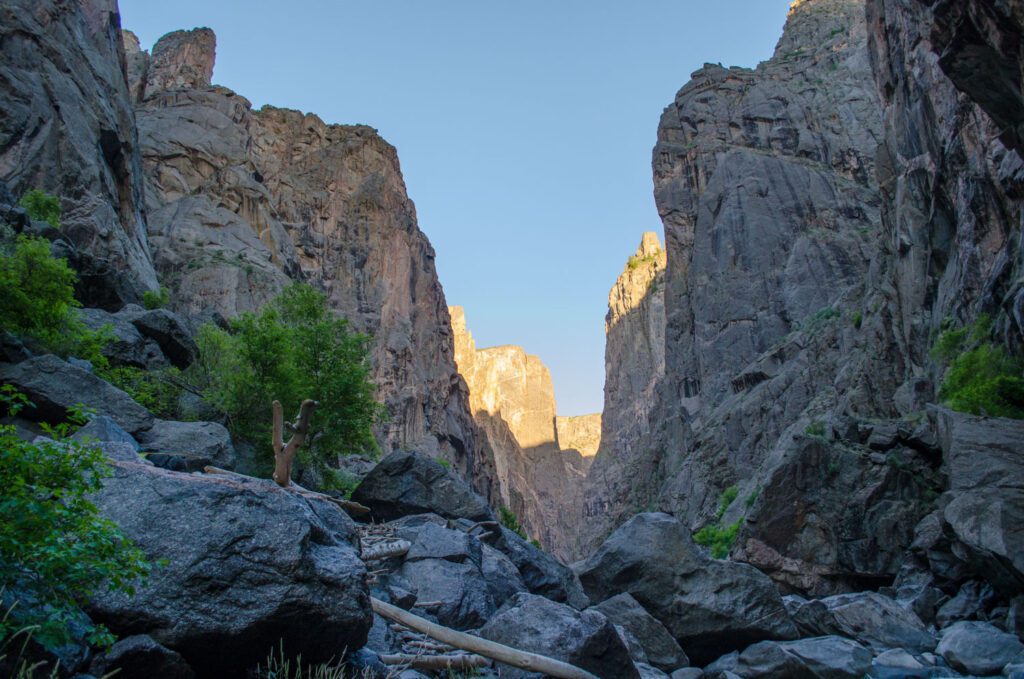 There aren't many hiking routes into the canyon, in fact, I wouldn't consider it a place "to go hike" in Colorado but it is well known for its rock climbing. So, I thought how can I combine both? I knew the perfect travel companions would be my sister and her husband, who are both climbers and avid lovers of Colorado. So, all three of us set out on a journey, unlike anything I had ever attempted before in my life. And to this day it is still one of my most epic adventures.
With my heart racing, palms sweating, and my forehead glistening with beads of perspiration, I locked in the carabiner to my harness. My sister synched me to the rope that was dangling down in front of me. Nowhere to be seen, my brother-in-law had led the way, having climbed his way to the top, where I was to follow.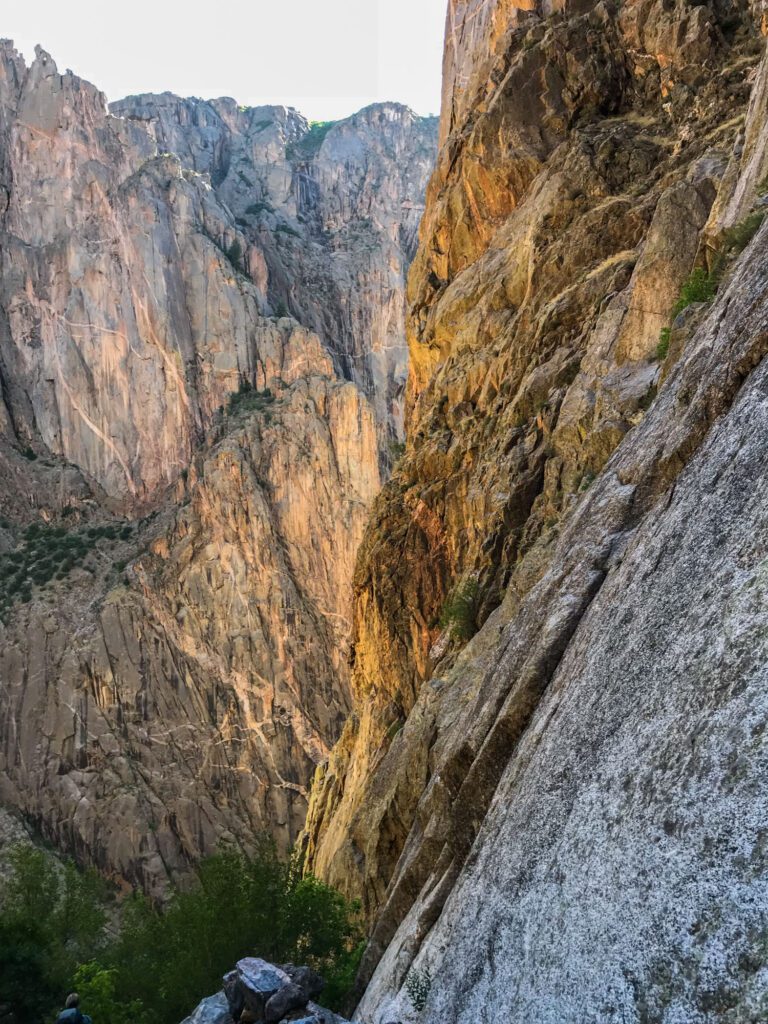 They were waiting on me, waiting on me to hoist myself up to the rope with a 40 lb. pack on my back to get me the hell out of this canyon. And as I started to climb, I thought how did I, someone who has climbed only four times in her life, find myself face to face with the rugged walls of the Black Canyon? With my only way out, being to climb out? Well, here is my story about backpacking in the Black Canyon of the Gunnison National Park.
Why I wanted to go backpacking in the Black Canyon
I find canyons to be mesmerizing, like a sunset. Somewhere you want to continue to the bottom to see where it all began. I instantly feel humbled by the grandeur of Mother Nature when at the bottom of a canyon. Don't get me wrong, I love hiking to the top of a mountain peak and taking in the views but there is something about finding yourself in the depths of the earth that is inspiring.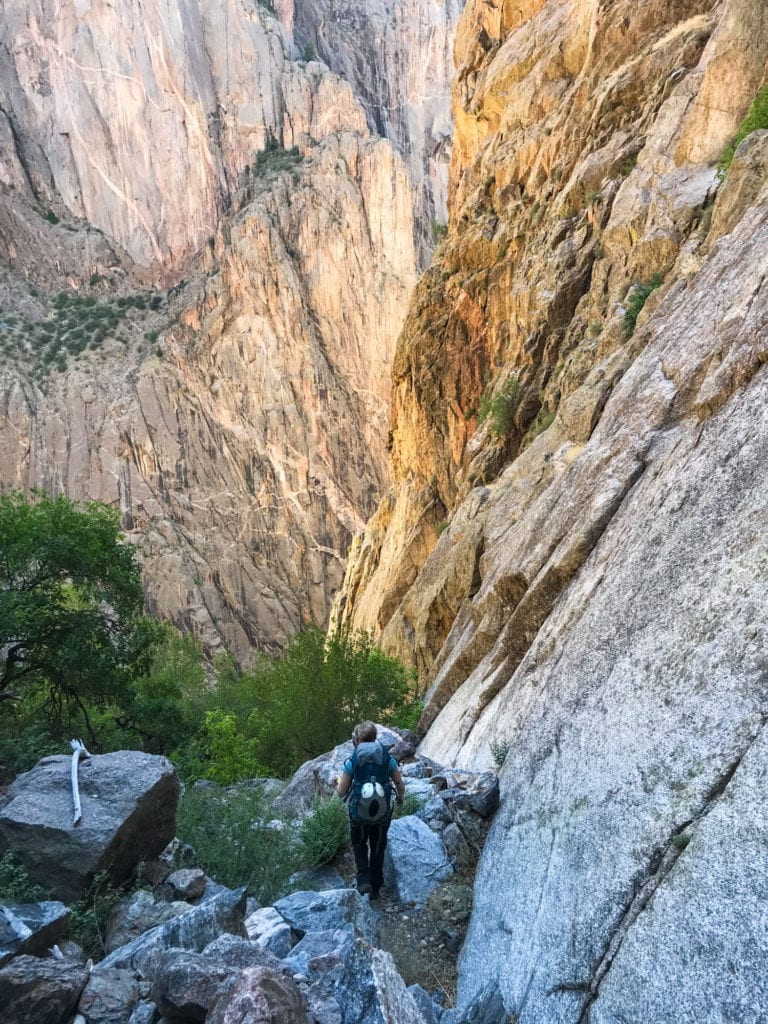 The Black Canyon of the Gunnison or better known to locals as "The Black," is serious business. With the steepest part of the canyon stretching some 2,700 ft. tall, it is the third-largest sheer wall in the lower 48. Its landscape is unforgiving, riddled with loose rock, steep walls, groves of poison ivy, and some of the most epic climbing the state has to offer.
As a well-respected climbing spot within the climbing community, expert climbers, like my sister and her husband, come to The Black to gain hard-core bragging rights in the climbing world. And because I don't climb, we chose to repel down and spend the night and hike back out.
So we did just that. We set out on a Friday and we were out by that Saturday evening. But what happened in between ended up giving me some hard-core bragging rights I hadn't sought to gain.
Please do not attempt the below without the right equipment, a permit, or expert climbers.
Going in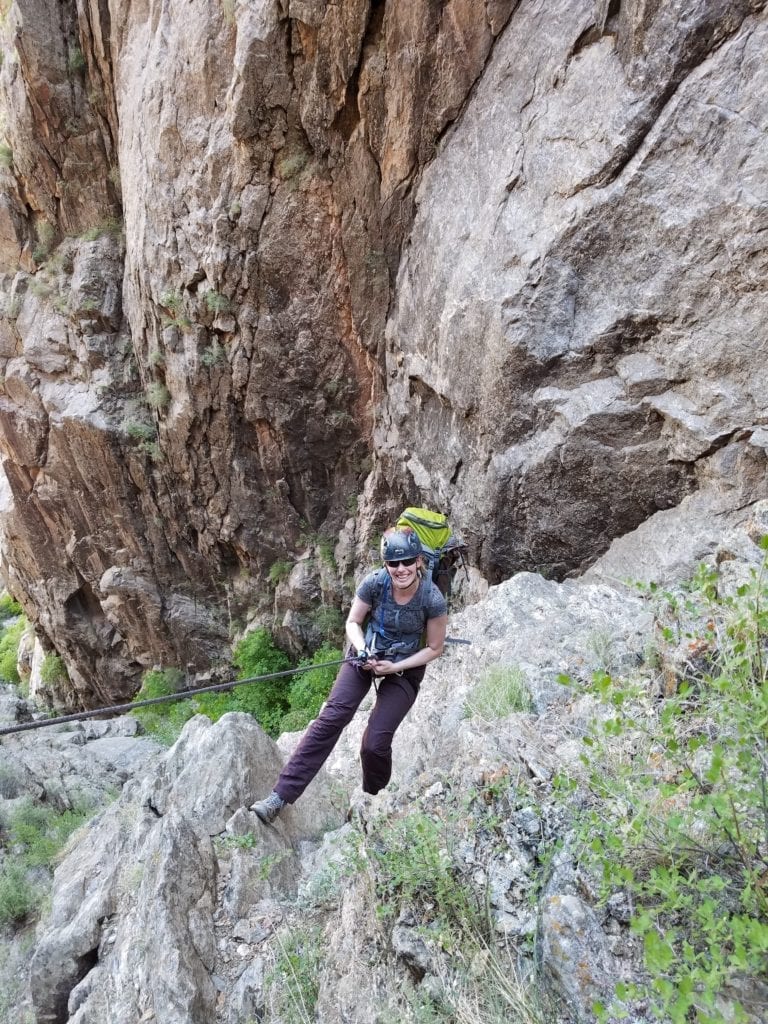 The plan was to start down the Cruise Gully, a 1,700 ft. drop of sheer rock that crumbles to the base of the canyon, where massive boulders meet the roaring river. After two rappels, we then would continue on foot toward the bottom where we would set up camp for the night. The rappel was fun, in fact after looking back on this trip, it was my favorite part. Not just because it was the easiest but because I had never rappeled into a canyon like this before.
After the two rappels, we still had a bit of a trek to the bottom. We climbed over boulders, sidestepped groves of poison ivy, and worked desperately to find a good footing on the ground that felt like it could give out at any second. Instantly I became exhausted, beaten, and ready for flat ground. It was getting dark and soon realized we would not be making it to our desired camp spot. I sat there on the rugged floor of the canyon, thinking I could sleep right here. I could not take another step, I had reached the end of my rope.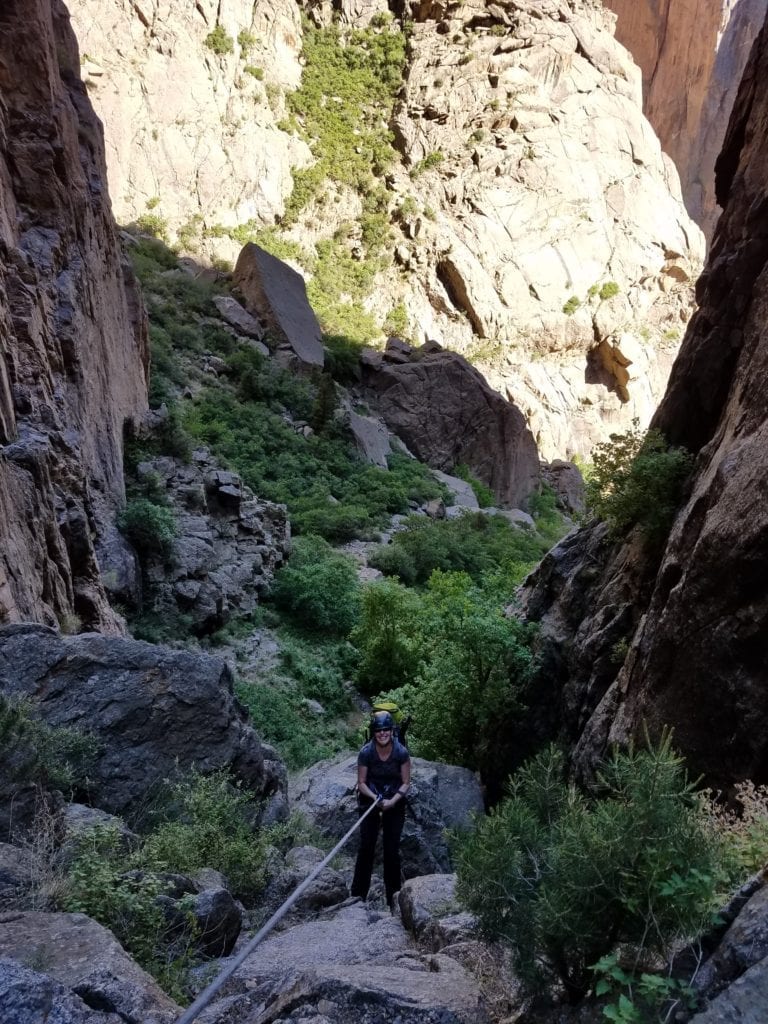 We never found flat ground to set up camp, but we did find a massive flat rock that jutted out onto the Gunnison River. I mean at this point I would have slept anywhere. Grateful for this boulder, we settled in as much as we could, with our sleeping bags providing the only comfort we could afford at that time. My sister and I made ourselves dinner and enjoyed the scenery as my brother-in-law cast in a line or two, as the Gunnison is known for its epic fishing.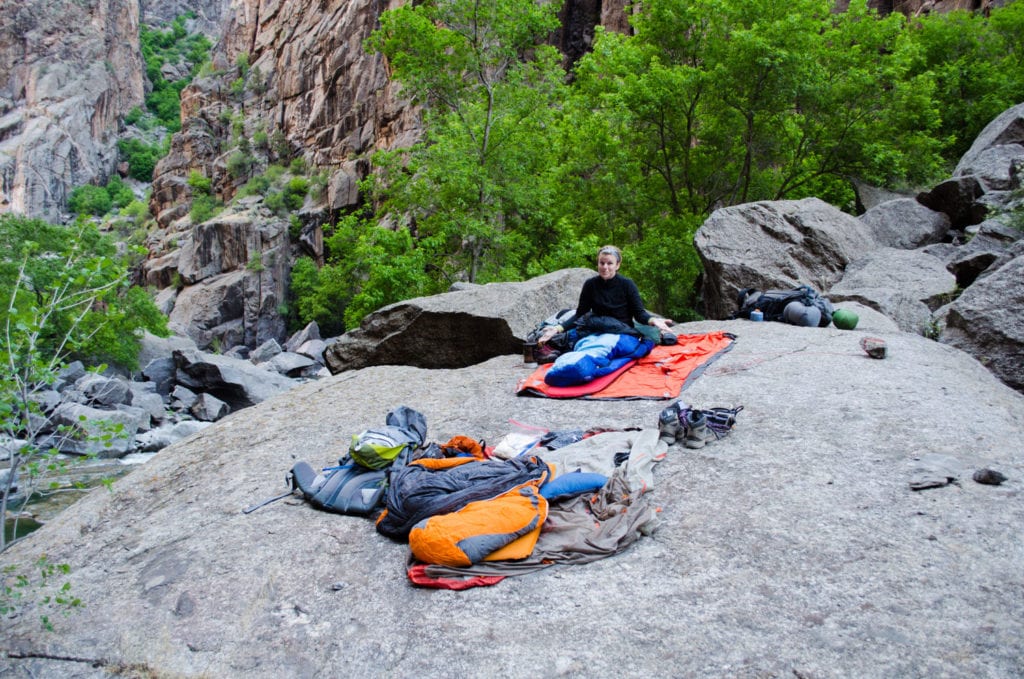 As I lay there, gazing up at a sliver of the sky, I watched as it got darker with the stars making their appearance for the evening. The walls of the canyon were the blackest black I had seen. They seemed to be almost so close together that you could simply walk over to the other side. I could have laid there forever, it was Colorado camping at its best.
Getting out
The next morning we arose at our own pace to a crystal blue sky and nervous thoughts of how we were going to get out of this canyon. As my brother-in-law was fishing the rushing waters beside us, he noticed there was an unexpected obstacle deterring us from the route we had planned on taking out.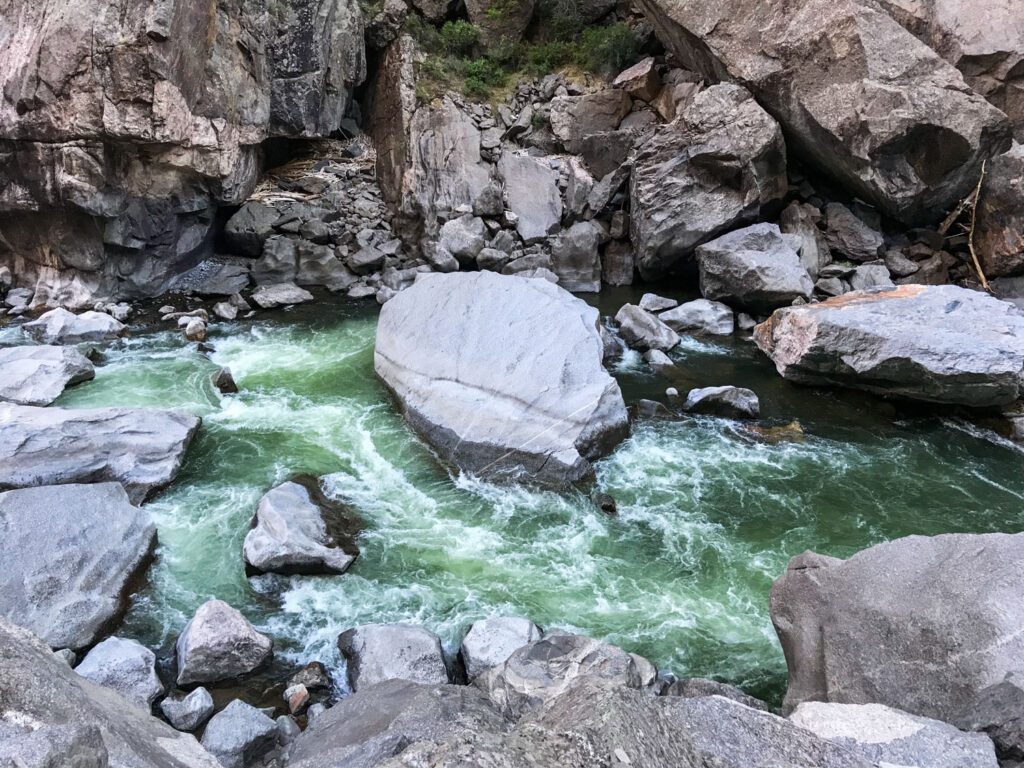 After much debate and reluctance, we decided to take the same route out that we took to get down. The obvious challenge staring me in the face was that I did not climb. How was this going to work? This was a climbing route, not a hiking route, out of the canyon.
So we trekked on and started the climb back out. What came next was not pretty. With a constant pounding in my heart, aching back, burning quads, and a level of exhaustion I had never felt before, we finally reached the second rappel, our first climb of the day.
The plan was for my brother-in-law to go first and "hold" the rope at the top as I made my way up. I did everything but what you would consider climbing; I screamed, I cried and I yelled so many expletives and a common phrase of "I can't do this"! But somehow I did. I made it up to the first rappel and then, by some miracle, the second rappel. It was not an option not to do it, or we would be spending another night in the canyon, which we had not prepared for. No, this was the only way out, so I climbed for my life.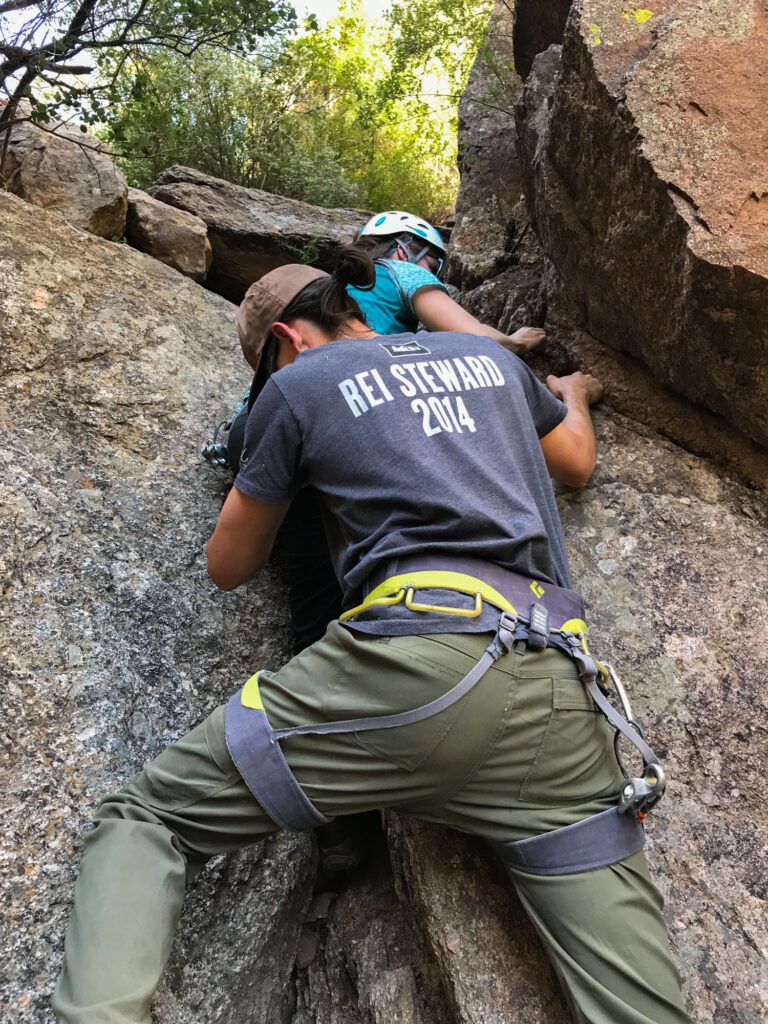 It was never a fear of falling but rather a fear that I couldn't do this. Fear is a funny thing. It can take over your entire body, not just your thoughts, but your physical self too. It's a power I am not even aware of until I am faced with no other option than to overcome that fear. That is what I did that day, I overcame a fear of feeling like "I can't do it". And now with slightly more confidence in how I actually can DO IT, fear has started to take a backseat in my life. And I can thank backpacking in the Black Canyon for that.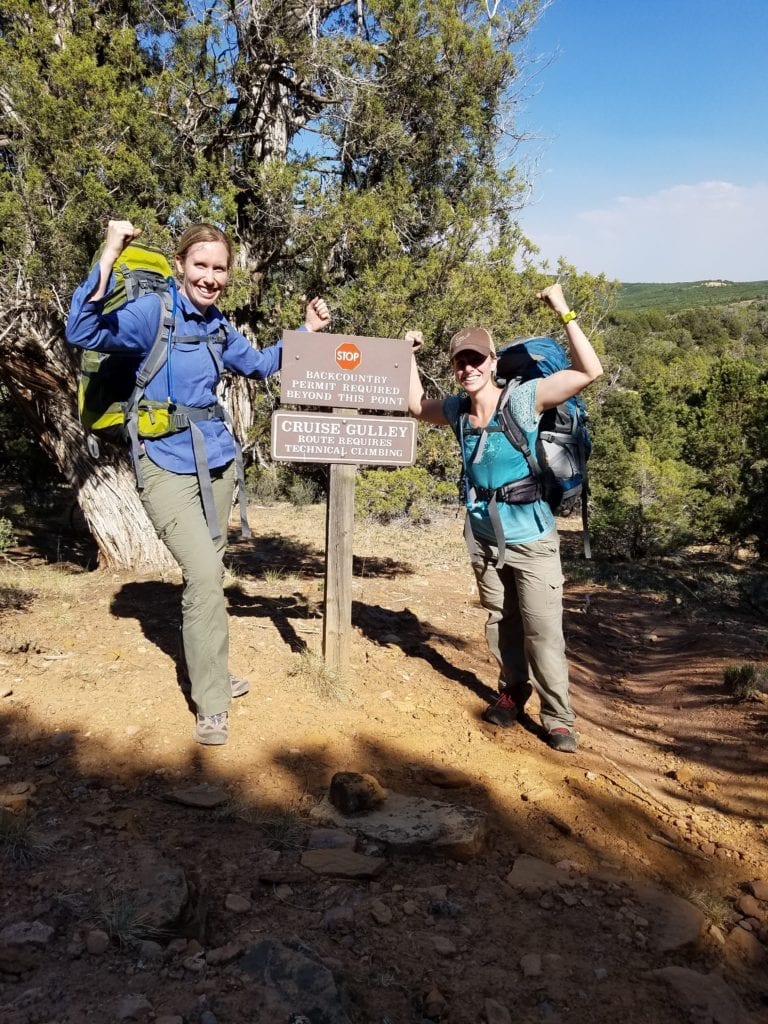 Quick tips on visiting the Black Canyon of the Gunnison National Park
South Rim vs. North Rim – South Rim is a bit more developed with campgrounds, picnic areas, and the park's visitor center, drawing in more crowds. The North Rim has a campground and a ranger station and is less crowded. Although it should be said that the Black Canyon is not a crowded park like other National Parks so you are pretty much guaranteed a quiet peaceful visit. The drive from the South Rim to the North Rim is about two hours.
Hiking – Due to its treacherous terrain there are few hiking trails in the park. There are some walking paths near look-out points and a two-mile walk to Warner Point at the end of the road, which we did not add to the trip after our escape!
Stargazing – The Black is an international dark sky park, which means it is a great place to see the milky way and star constellations on a clear night.
Backpacking – There are not maintained or marked trails into the canyon. So use extreme caution when entering the canyon. There are a few routes for hiking listed on the NPS website. Please note their caution and warning of the terrain and gear you should have before descending into The Black.
Where to stay: Montrose is your closest town (near the South Rim entrance) with all the local conveniences you will need. But of course, I highly recommend camping a few nights at the park, perfect for catching up on star gazing!
For more information about visiting the Black Canyon of the Gunnison, visit their NPS website.
For this and other adventures, be sure to follow along @small_town_stops
*all images are subject to copyright