There are a few places that draw me back, again and again. Ghost Ranch in Abiquiú, New Mexico is one of those places. I have visited three times now; twice solo and once with girlfriends of mine.
Most famous for its picturesque southwest landscape that inspired the American artist, Georgia O'Keeffe, to not only paint its captivating scenery but to buy a ranch out here and spend many of her remaining years in New Mexico, a far cry from the streets of New York City.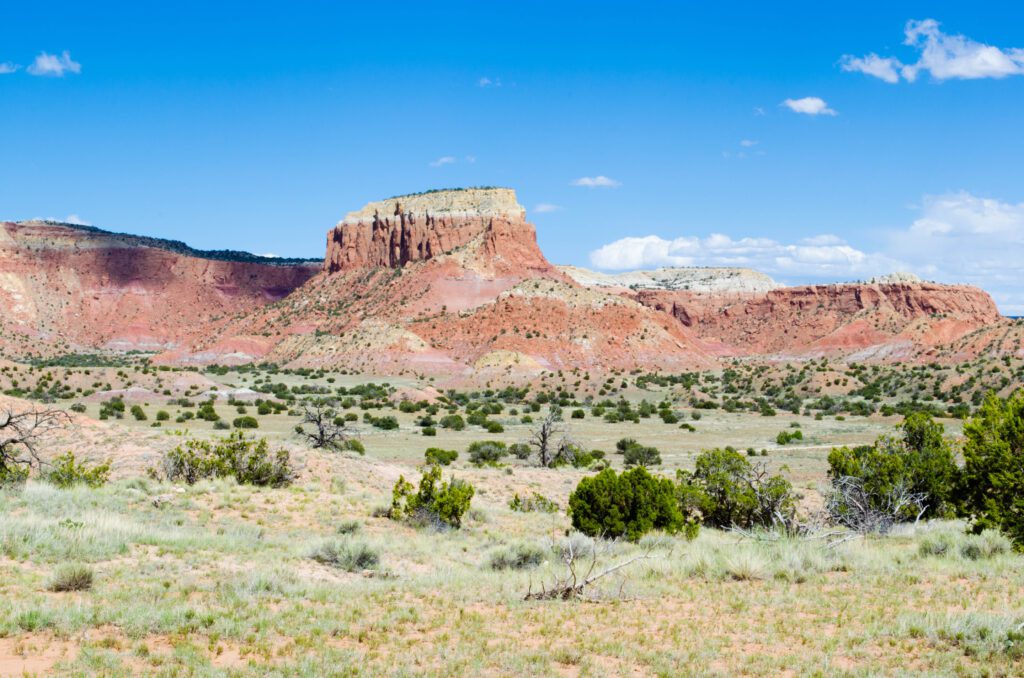 My first visit to Ghost Ranch in New Mexico came about at a pivotal moment in my life. I had recently gone through some intense life changes and decided to take a long-awaited trip out to Ghost Ranch. For those of you who don't know, Ghost Ranch is where the iconic American painter, Georgia O'Keeffe lived for a large part of her life and where so many of her breathtaking paintings were inspired from.
As one of many artists I have admired, Georgia O'Keeffe has been a source of inspiration for me over the years. She was the focus of my studies when I was younger, along with others such as Degas and Pollock. This had been a dream of mine to visit the landscape that captivated O'Keeffe's heart, mind, and soul. I was at a point in my life where I needed and wanted to be inspired, so why not go to the source of inspiration?
From Santa Fe, Ghost Ranch is an easy hour-and-a-half drive. Approaching Ghost Ranch from US-84, I quickly began to see what drew O'Keeffe to this magnificent place. The landscape opened up to this geological wonderment of color and detail. The photographer in me wanted to stop and take pictures every five minutes as I continued to drive. Turning onto the property, a flood of emotions consumed me as I bore witness to this vibrant and awe-inspiring landscape that lay before me. I was so happy to have finally made it and in a strange sense, it felt like coming home.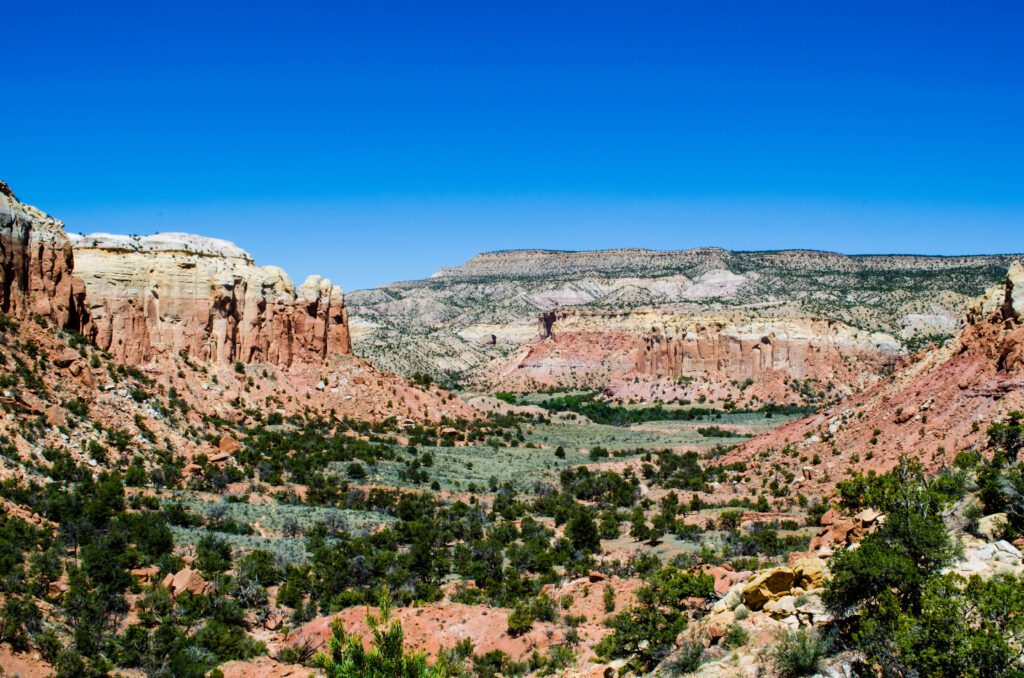 Sitting in the car for a bit before heading to the visitor center, I gathered my thoughts to appreciate the moment I was in. I registered myself and what trail I planned to hike (because I did not want this story to end with "tourist lost at Ghost Ranch"). I took the most difficult trail on the property, Kitchen Mesa. By no means a long trail but there were some technical parts that required a little bit of scrambling. I will hastily admit (as an avid hiker from Colorado) that I did get a bit turned around, well really….I got lost.
The trail was fairly well marked by old rusted tin cans and cairns. But in typical fashion, I was so memorized by what was around me that I zigged when I should have zagged (or however that saying goes). As I started to panic I felt a bit of fear and self-doubt sink in. What was I doing? What if I am really lost out here by myself?
I stopped, took a deep breath, and told myself just go back to where I got lost, which I did, and instantly I saw where I went wrong. As I got back on the right path I quickly approached the top of Kitchen Mesa and the views that lay before me quite literally took my breath away. The landscape was full of rich colors, diverse geography, and expansive views, it was a sight I will never forget. I left feeling as inspired as I had anticipated I would. Inspired artistically, emotionally, and physically.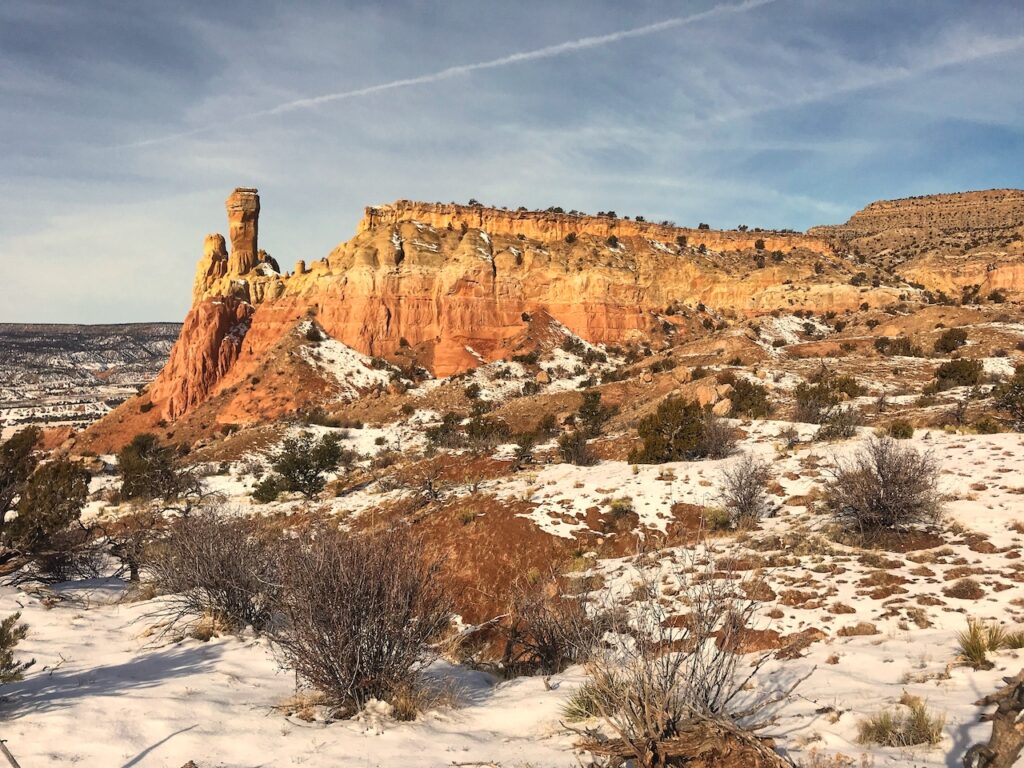 A few years later when I visited with my friends we, came during winter when the landscape unfolded into an entirely new world. With a layer of snow butting against the red rugged rocky landscape. The scenery took on an entirely new identity — one that I quite liked. This was the only time I actually stayed at Ghost Ranch in New Mexico. We booked one of the dorm-style rooms with five single beds in one room, communal bathrooms, and basic amenities. It was basic but very affordable. The property has other lodging options, a bit more elevated from the dormitory style. All meals are served at the on-site dining hall.
It's very much a place for learning, more than for travelers. They hold retreats and workshops there often, including art and writing retreats, plus the Ghost Ranch Nature Getaway for a more in-depth way to connect to the natural world that surrounds Ghost Ranch.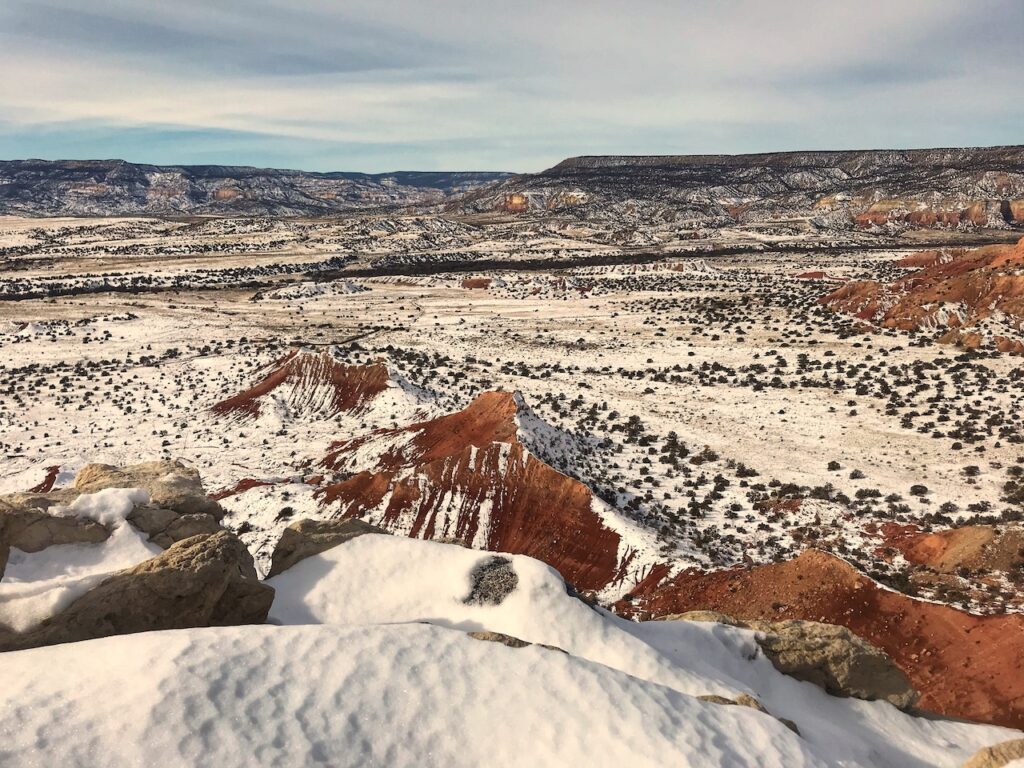 There is a quote from the book Wild by Cheryl Strayed that I remind myself of daily, "There is a sunrise and a sunset every day. You can choose to be there for it. You can put yourself in the way of beauty." This is how I view the world and how I carry myself from the day to day. I choose to see the beauty in everyday life and that is truly what inspires me in everything I design, photograph, and write.
*All images were taken by me and are subject to copyright.
*Some links in this article are affiliate links, which I may earn a commission for.