After a sequence of life alternating events, I set out with my sister to rediscover travel and adventure and what they all mean to me. From Canyons to Casinos, this is my epic journey from Grand Canyon to Las Vegas. 
*all images were taken by me and are subject to copyright
Canyons to Casinos
To be "at the source" means to be at the place from where things originate. To go to "the source" or to be at "the source" can mean a lot of different things to many different people. For me soaking my feet in the Colorado River at the bottom of the Grand Canyon was like being at "the source". I reached a part of the world where life began and a masterpiece created.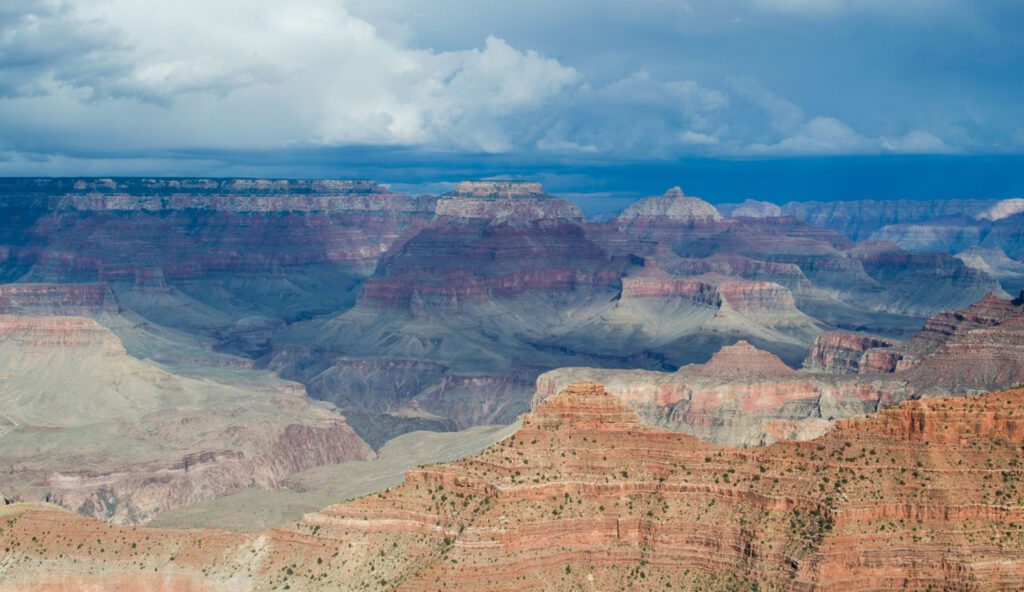 A few years ago I took a bucket-list trip to the Grand Canyon National Park with my ever-adventurous sister. We had planned this trip several months back in response to my life suddenly taking a turn that I didn't see coming. The Grand Canyon had forever been on my list of places to explore and according to my sister (which I completely agreed with), the only way to see a place like the Grand Canyon was to backpack. So, I said sign me up and we booked the trip.
I knew this would be a physically challenging trip, but it was the kind of challenge I was so desperately looking for. I needed something to propel me towards the mindset of "I can do anything I set my mind to." It is amazing how ending a long-term relationship can make you think of yourself as a failure when most of the evidence points to the contrary. I needed this challenge to prove to myself I had not failed, but rather, that I was on the path to growth and transformation.
Beginning the journey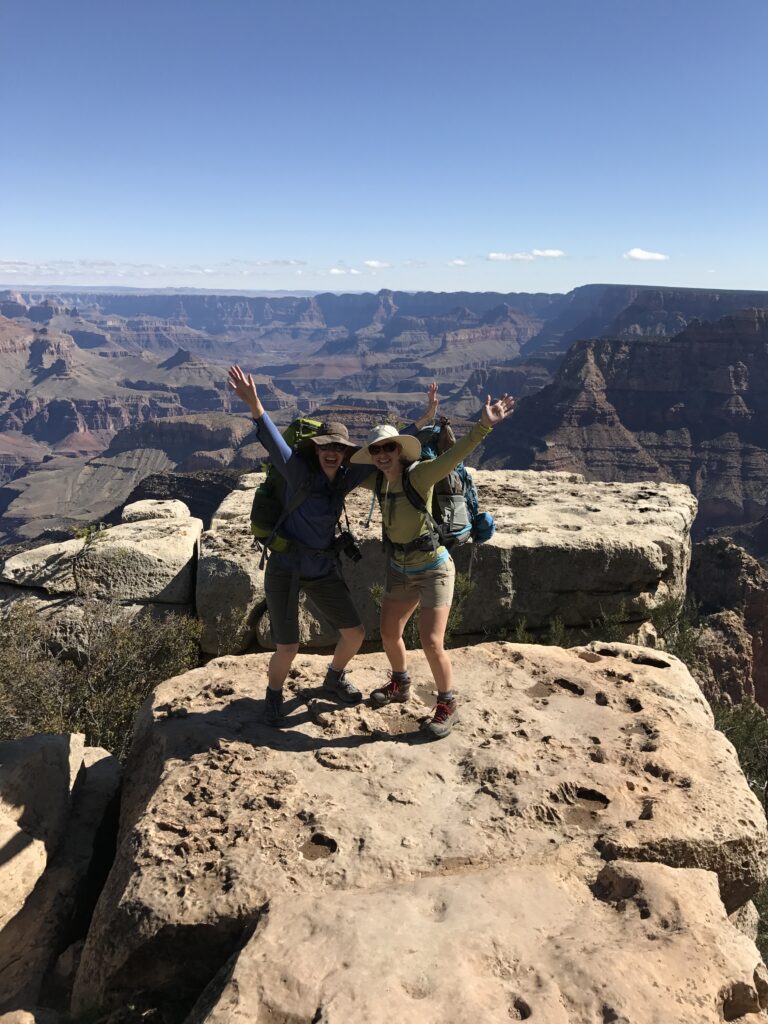 Upon arriving at the park we made our way to Grandview Point, where we were to start our journey. A jaw-dropping scene lay in front of me offering peace, solace, and the highest level of gratitude.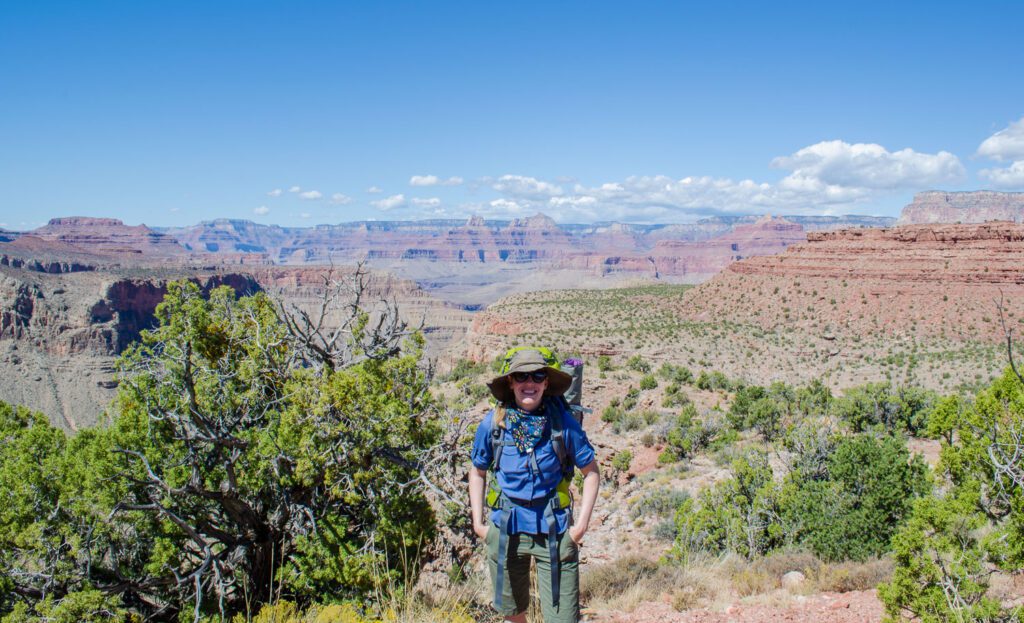 Our plans were to camp and hike for three nights and three days, taking two days to hike to the bottom of the canyon and one day to hike back out. I also knew the hike out was going to be the most challenging part of the entire trip, which weighed heavily on my mind.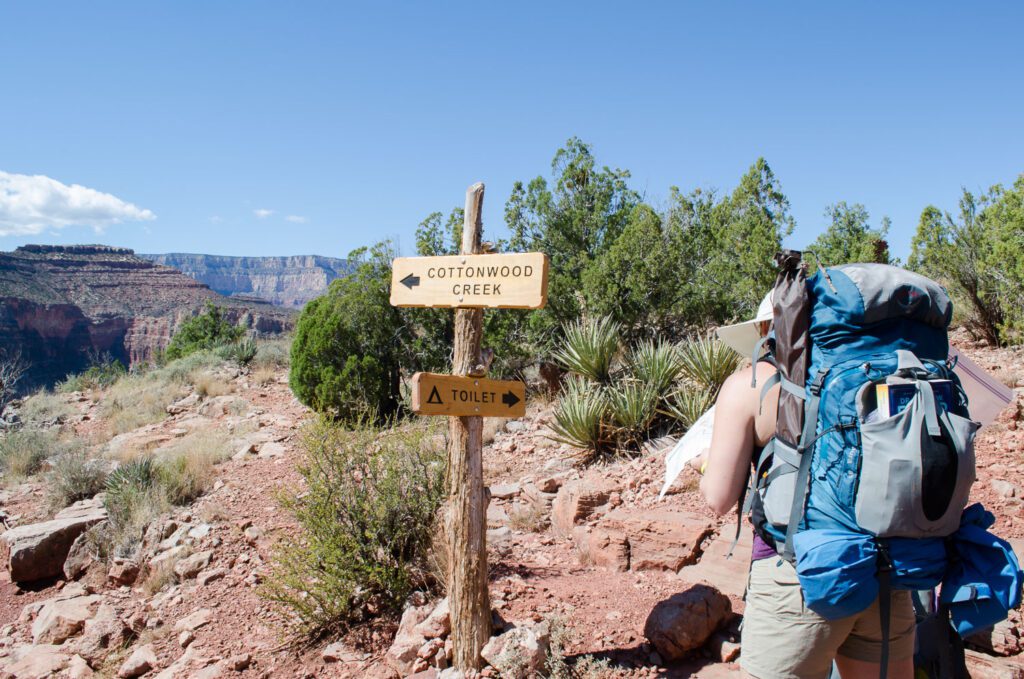 Those first few days were indescribable. Here you are, this tiny speck trying to navigate your way through this spectacular, unforgiving landscape. Quickly understanding I was not in control and that Mother Nature always is. I enjoyed the solitude, the beauty, and the simple thought that I WAS BACKPACKING THROUGH THE GRAND CANYON.  
Reaching the river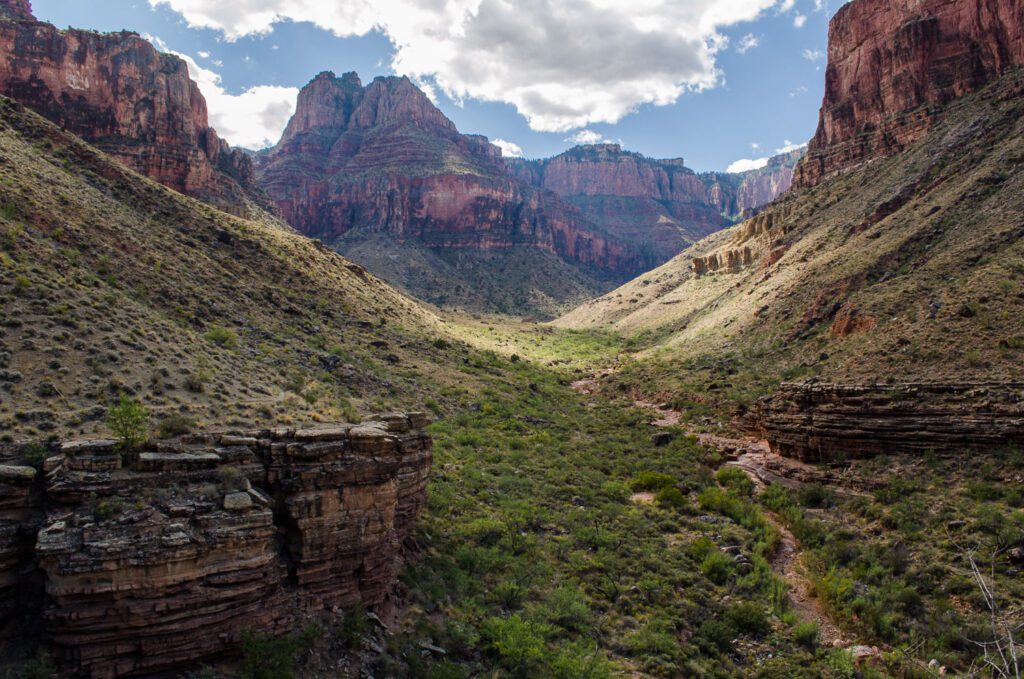 On the second day, as we slowly approached the bottom, we began to see and hear the roaring Colorado River, a reassuring sign we were almost there. Finally, as we found the bottom of the canyon we came to a section of the river called New Hance Rapids. The sound alone revealed the power of the river and what it was capable of.
As we approached the edge I could hardly hear my sister's words, the force of the water was so powerful. Suddenly I felt instantly connected…..to the source. I was at the source, where it all began. The source of all life…water. As I sunk my feet into the sandy shore of the Colorado River, I instantly felt a sense of knowing. A feeling, that I knew everything was going to be ok.
The final day proved to be a bit of a struggle, a hike that was only supposed to take us six hours at the most turned into nine hours with us running out of water at the very end. I would like to say that I completed this trek gracefully and without crying but the Grand Canyon kicked my ass.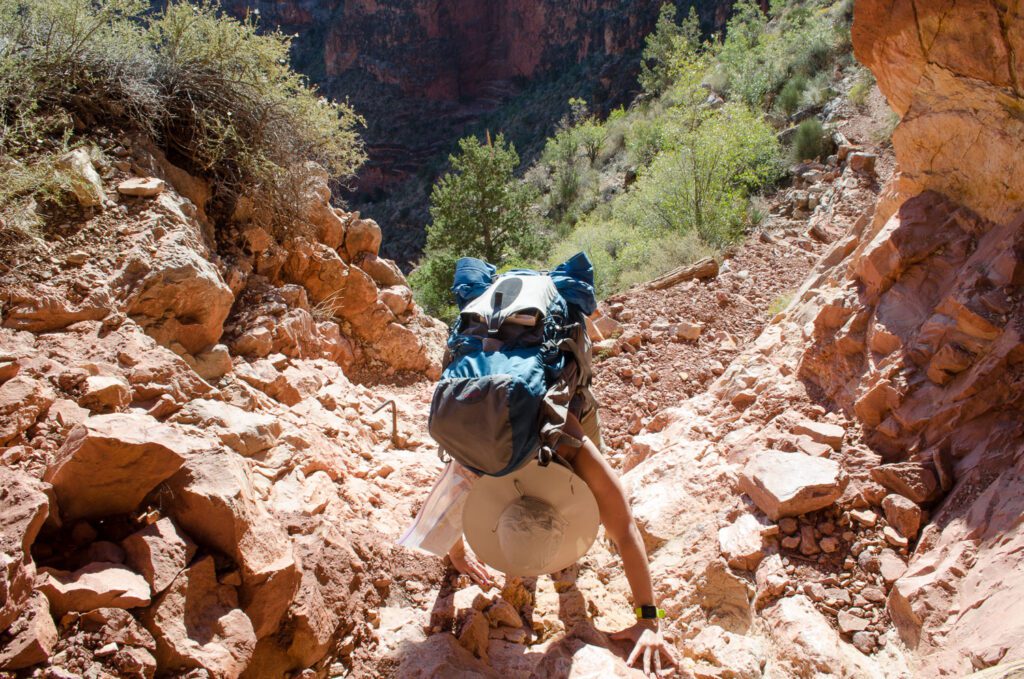 It was another, not-so-subtle reminder that Mother Nature was in control, not me. Tears definitely were shed out of pain and despair but then came tears of happiness and a sense of accomplishment as we saw the road that would lead us back to where we started. 
Arriving in Las Vegas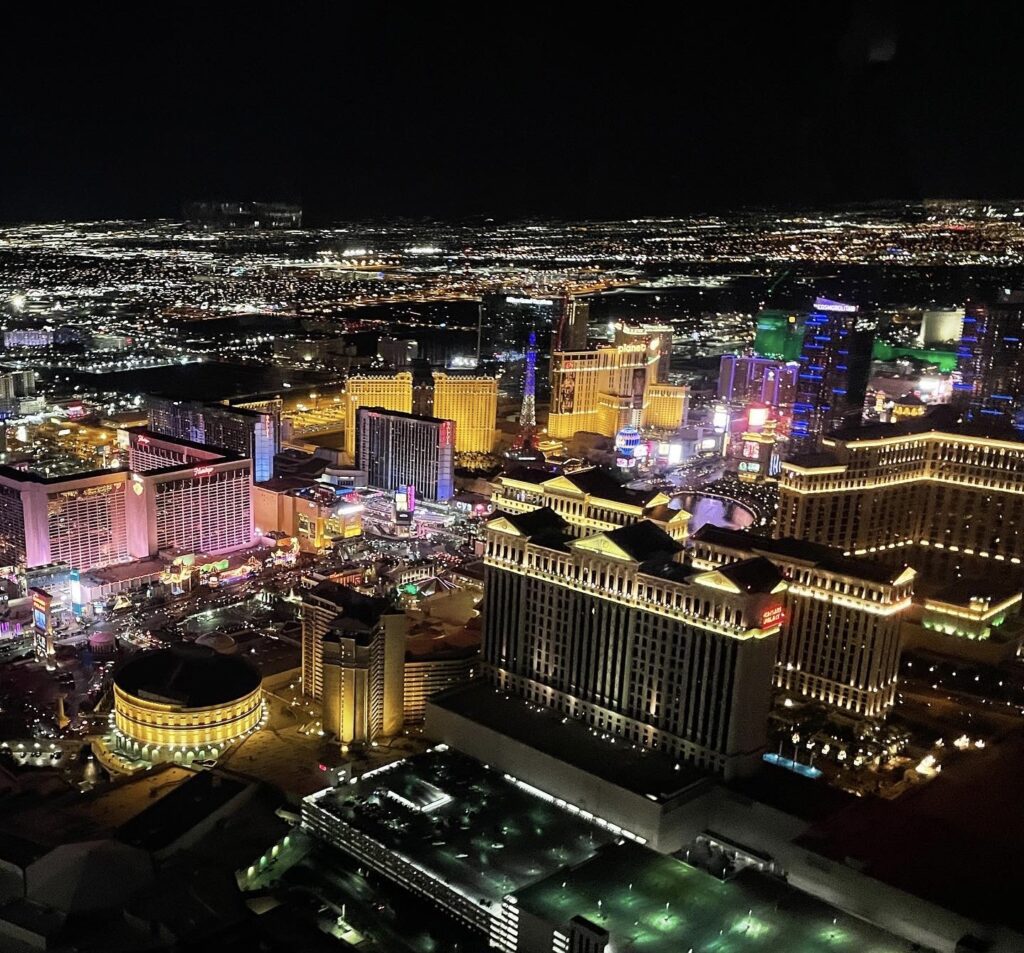 From the Grand Canyon to Las Vegas is roughly a four-hour drive time. We had flown into Vegas and rented a car for our road trip out west. To round out the trip we had decided to stay one night in Vegas to celebrate the momentous occasion of backpacking into the Grand Canyon with drinks and dinner. 
But because we took so long getting out of the canyon,  we didn't set out on the road until close to 6:00 pm. Putting us in Las Vegas fairly late. We were exhausted and finally arrived in Sin City around midnight. Once checking into our room at the MGM Grand I was ready for bed as we had an 8:00 am flight the next morning. 
But, my sister, being who she is insisted we go out! And so we did. We showered, put on our best Las Vegas outfits, and hit the bars and slot machines. I won $50 and partied until the sun began to set on the horizon. This easily was the longest 24 hours of my life and easily one of the most memorable. 
I came out of the canyon a different person than when I started….the best version of myself. I re-discovered the source of who I was and spent the night in Vegas celebrating just that.
For more travel stories, follow along at Small Town Stops.