When traveling by way of a car across the mid-west, there doesn't seem to be much to discover. With its flat landscape, abundant farmland and sparsely populated towns, travelers are met with much to be desired. But if you look hard enough you will find there are some real sweet spots to visit including a small Swedish town in Kansas.
Yes, that's right, practically right smack dab in the middle of nowhere Kansas is the town of Lindsborg, a tiny hamlet with big Swedish heritage. Located about an hour north of Witchita and just south of Salina, on HWY 35, Lindsborg is a quiet community of roughly 3,300 that has a lot to say about its Swedish culture. 
Lindsborg was founded by Swedish immigrants in 1868 and still wears its prideful heritage today with Swedish flags flying high, family crests posted on street corners, and greetings of "Valkommen till Lindsborg" still heard today. Discover below why I quickly fell in love with Lindsborg and why I know you will too.
Fall in Love with the Dala Horses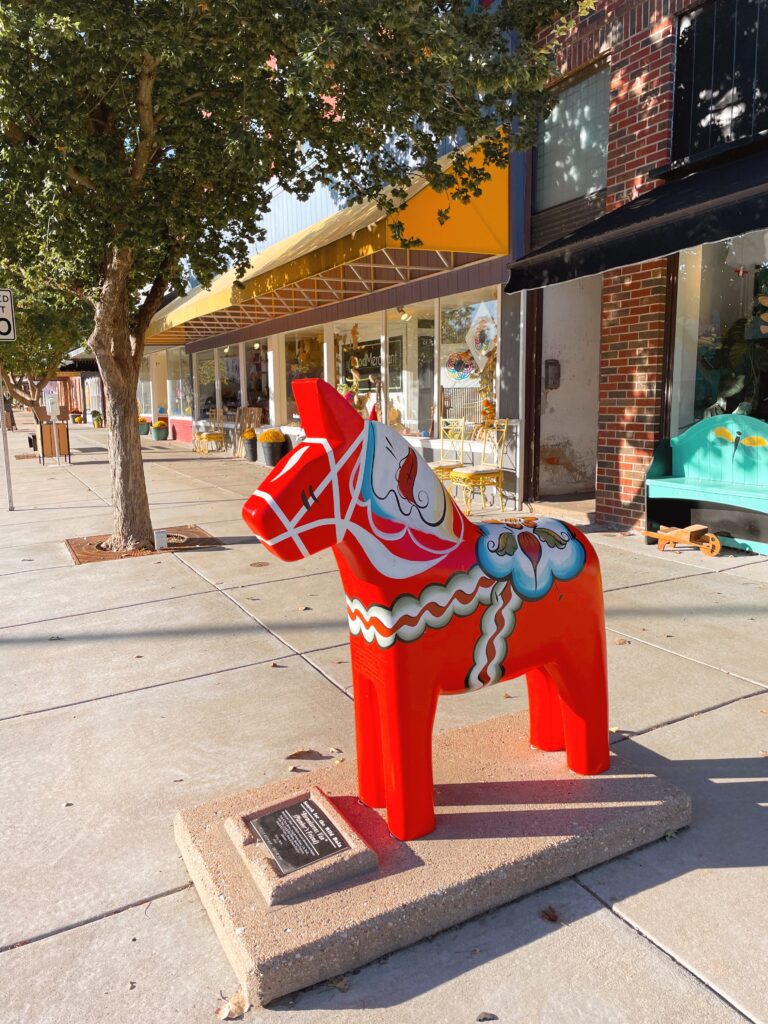 One of the first things you'll notice when walking along the main street is the colorful Dala Horse sculptures. Claiming "the nation's only herd of wild Dala Horses," Lindsborg is home to more than 30 lifesize Dala Horses.
Taking the original shape of the Dala, a traditional Swedish toy given to children and as valuable family heirlooms, Lindsborg created lifesize versions of these horses. The horses are sponsored by individual businesses and are often found in front of residential homes as well. Each is uniquely painted by a local artist and brings to life the town's heritage.
So many photo opportunities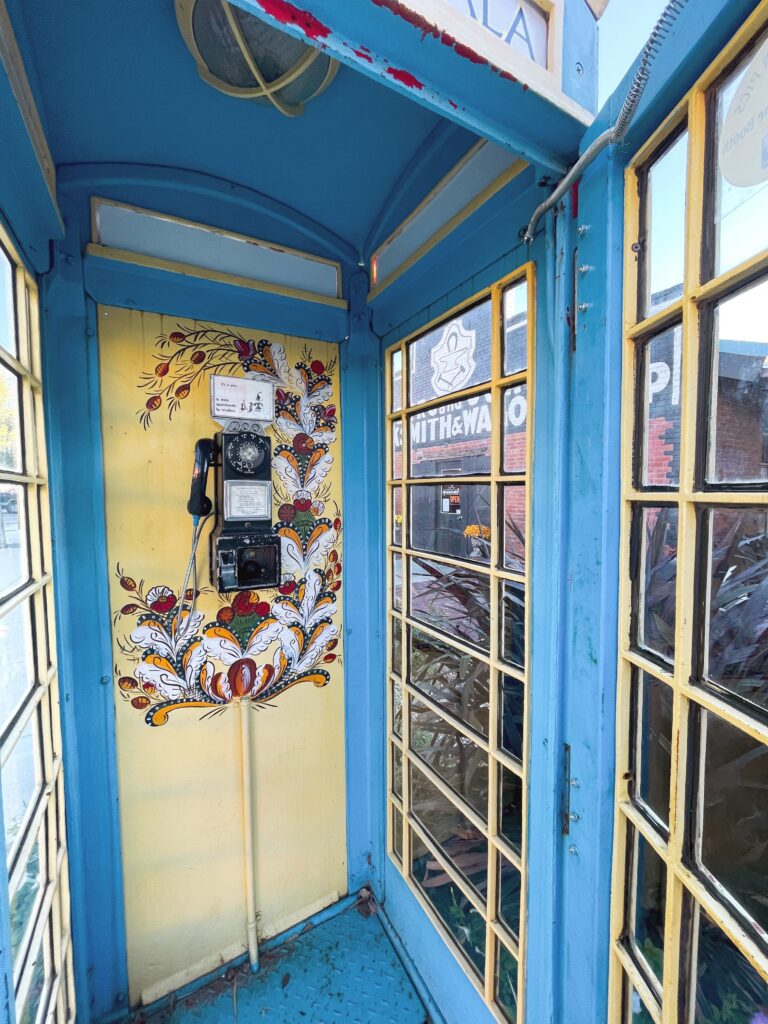 In addition to the Dala horses that will have you snapping away, there are many other unique photo opportunities. Stop in at Blacksmith Coffee Roastery for your morning coffee and stand inside the European-style phone booth, decked out in flowers and vibrant colors. Even the town's storefronts offer unique Bavarian-like features, like the Courtyard Gallery and Bakery. You can't help but stop and take a photo.
While strolling through town, take a moment to notice the distinguished architecture of the buildings, some dating back to the 1800s. The town's city hall is the one I liked the most. Its pinkish-red brick exterior with ornate trim stood out at the corner of Main Street and Lincoln Street.
The building of the Farmers State Bank Building. Built in 1887, this historic building was placed on the National Register of Historic Places in 2008. It was the only bank of three to survive the Great Depression.
Visit a castle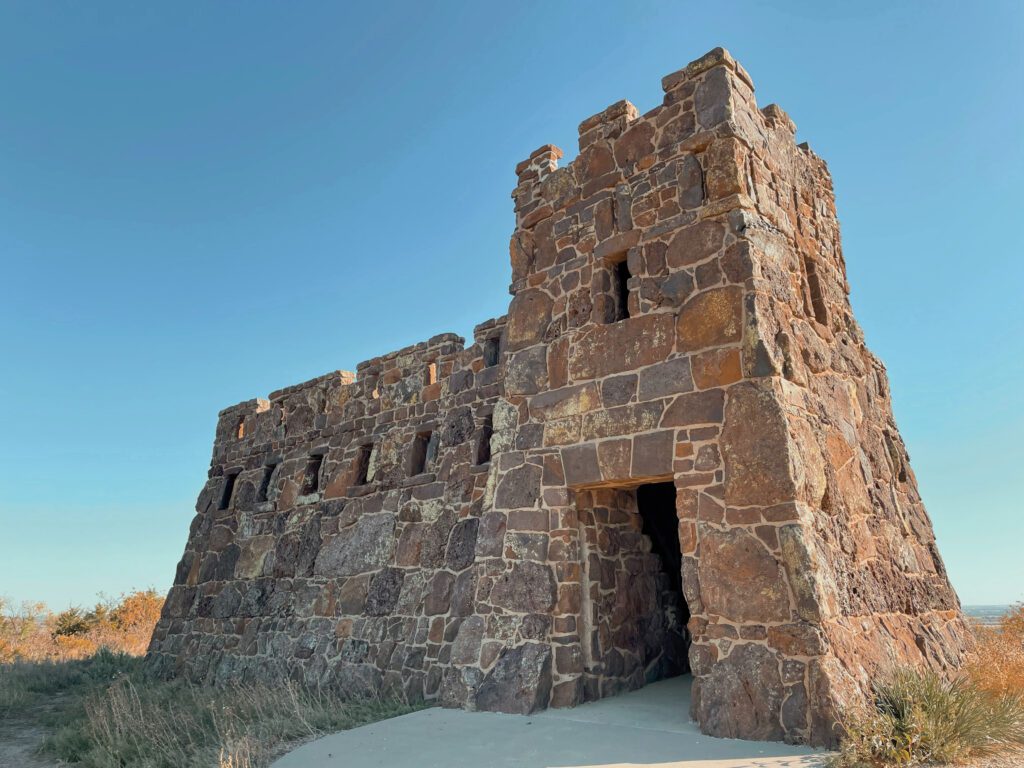 Yes, that's right you can step inside a castle when visiting this small Swedish town in Kansas. Just outside the main part of town, lies the Coronado Heights Castle. X marks the spot of this castle-like structure, where historians believed that the Spanish explorer Francisco Vasquez de Coronado spent many days peering out over the flat frontier that lay ahead. The actual structure was built in the 1930s under a Works Progress Administration (WPA) in remembrance of Coronado as the place where his ill-fated expedition for gold treasures ended.
Today, you can drive up to it and take in the hill-top scenery of rural farmlands and the vast open land of the Old Frontier. Walk inside to see what it might have been like to stand watch at this site and climb to the top for even better views. There are also biking and hiking trails at the park for an enjoyable day outside.
Stay in a Victorian Bed and Breakfast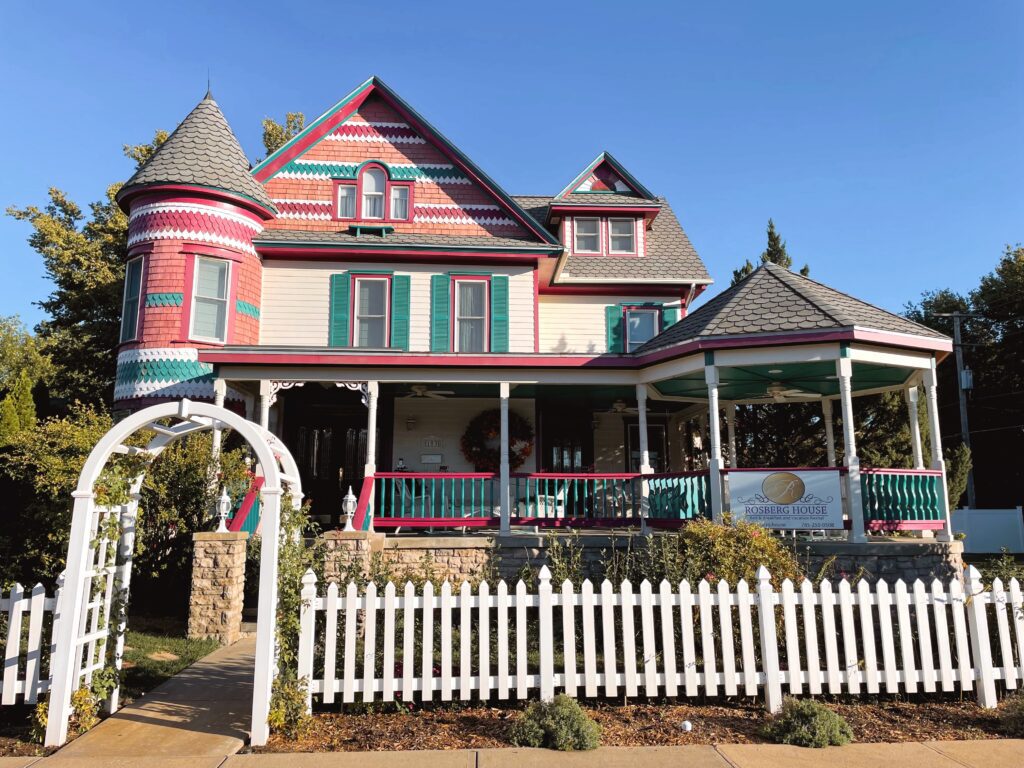 For the full experience, plan to stay the night in one of the Victorian bed and breakfasts. I chose the Rosberg Bed and Breakfast, but there are two others in town – Seasons of the Fox and Drom Scott Inn. 
The large pink and turquoise Queen Anne Victorian home felt like the obvious choice. Originally built as a private residence in 1885, the house has been renovated over the years and moved from its original location but still offers an authentic Victorian feel with the hospitality of a bed and breakfast.
A visit to this small Swedish town in Kansas is a stop on a road trip well spent and makes the drive through Kansas less boring!
For this and other Small Town Stops to visit be sure to follow along at smalltownstops.com