Hiking in Carbondale Colorado is easy with the Lorax Trail. For both mountain bikers and hikers, the Lorax Trail is a 3-mile lollipop loop with beautiful views of Mt. Sopris and some unusual-looking trees. In fact, the trees are so unusual they warrant an entire blog about them.
Hiking the Lorax Trail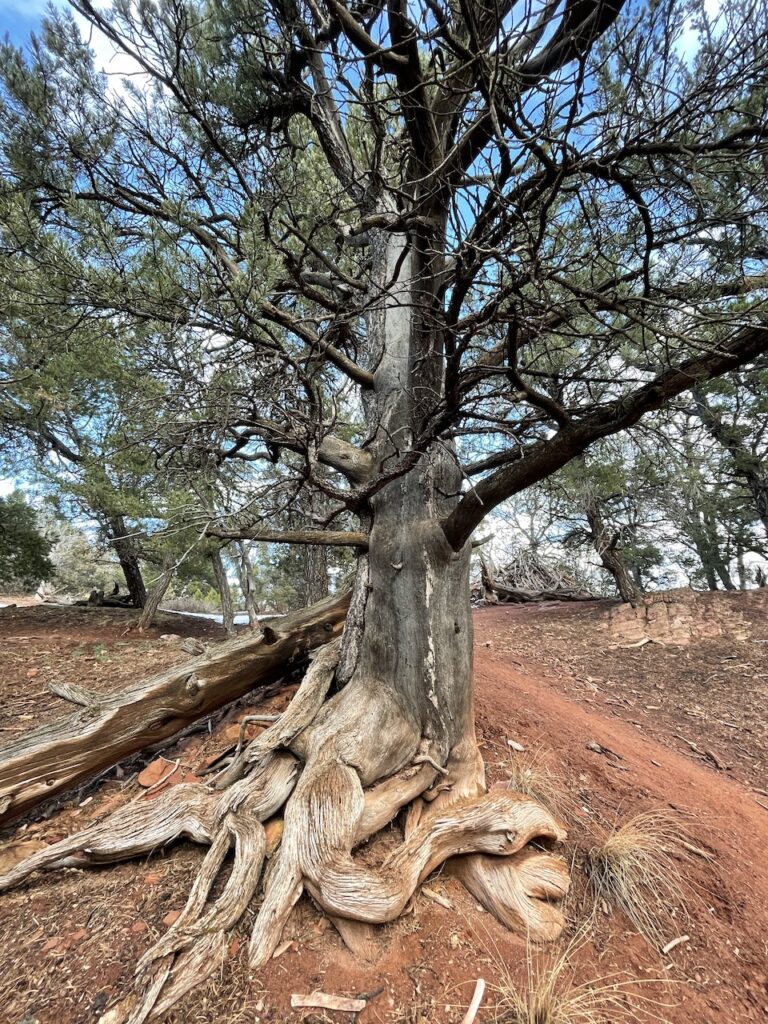 I first came across this hike while testing out a converted sprinter van from Dave and Matt Vans in Eagle, Colorado. I was visiting the area in December to test out their converted vans in the winter (they are equipped with heaters!).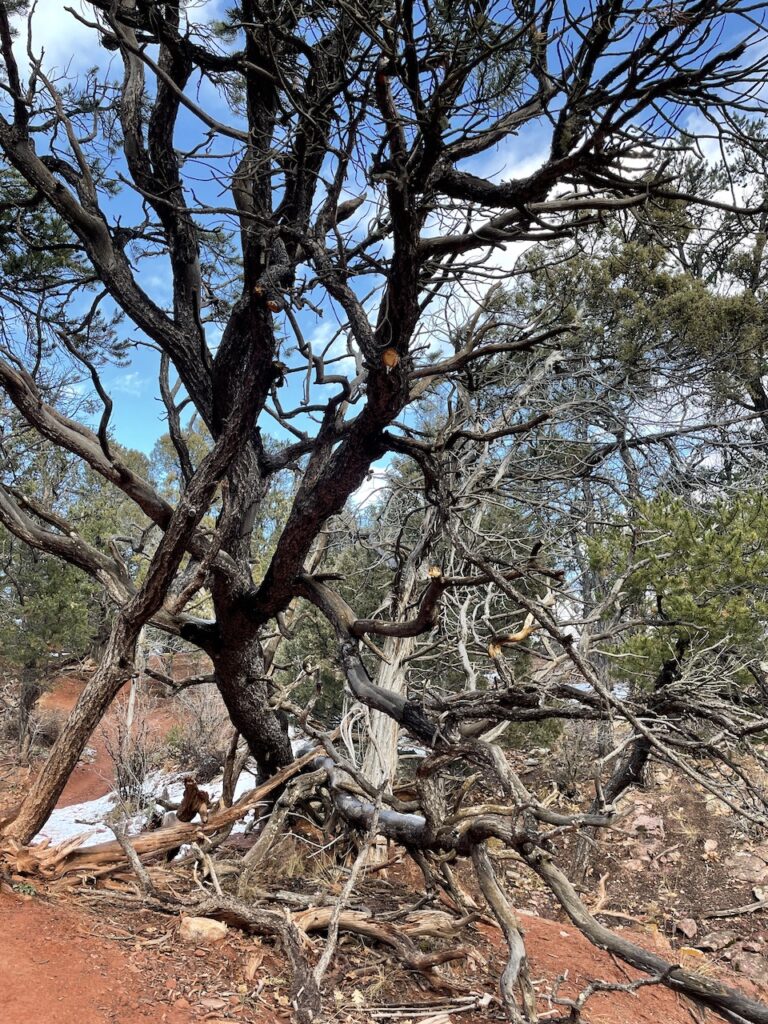 The trail consists of one mile to the loop/intersection and the loop itself is one mile as well. The best part about this trail is its lack of people. I know I visited in winter, but when reading about it from others who hiked it in the summer they also describe it as quiet and a place to truly feel like you are exploring a remote landscape.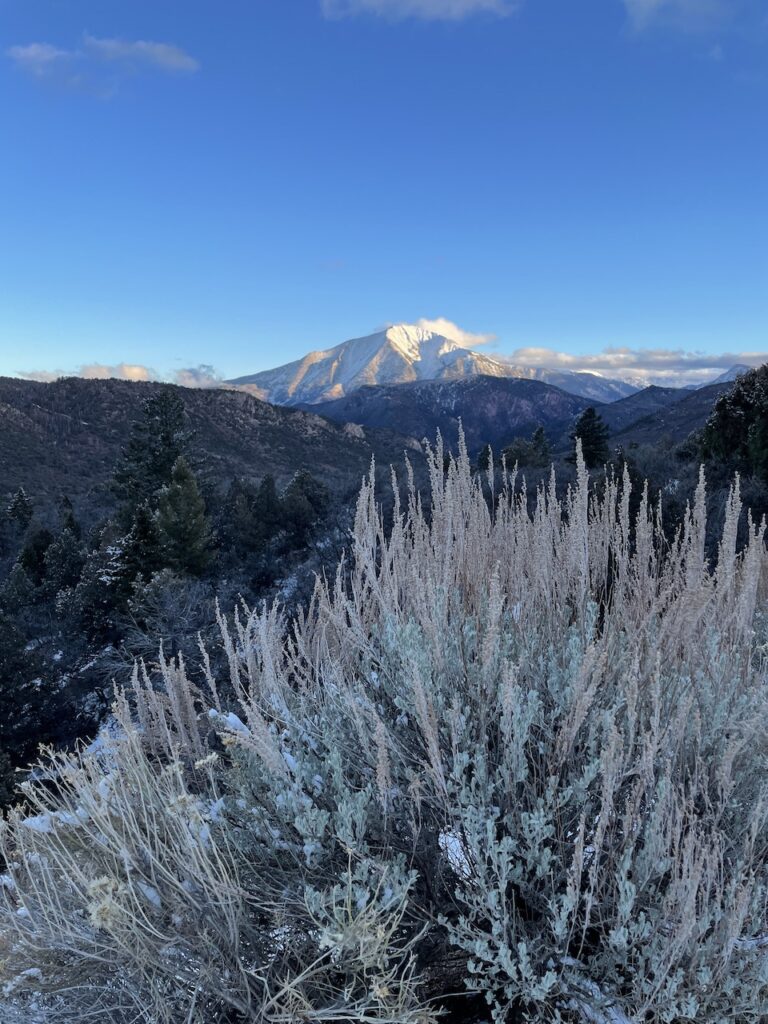 The trail is mostly shaded, making it a great option for the summer as well. While the mountain-top views are not what you get with this hike, there is always a nice view of Mt. Sopris in the distance. But it is the unusual tree formations and stick forts that make this one of my favorite hikes in Colorado and one of my favorite options for hiking in Carbondale Colorado.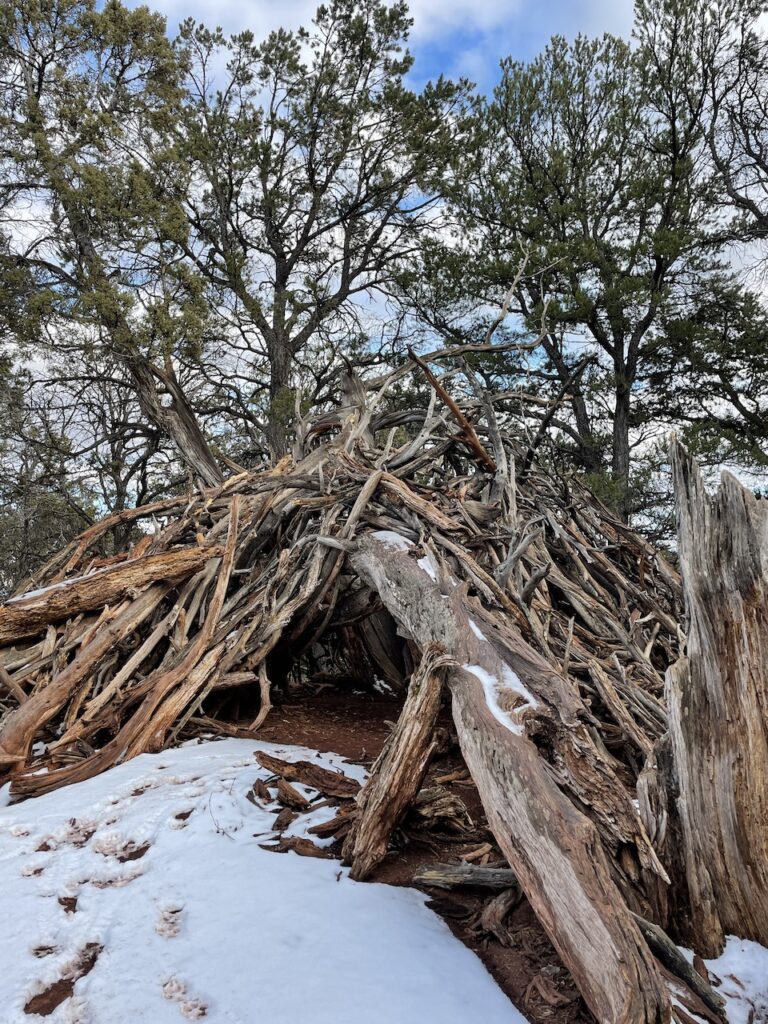 The twisted and gnarled trees are so unique, it's my guess that's why the trail is named the Lorax Trail — after the Dr. Suess character who "speaks for the trees." I'm still trying to figure out why the trees in this area have grown in that way.
When to go hiking in Carbondale CO
I actually hiked this trail during the winter season in mid-December. There was some snow and ice in shaded spots, but nothing I couldn't manage. I could also see where you could snowshoe when there's a major snowpack.
The other nice part about hiking in December was I was able to hike it without any mountain bikers as it is closed to bikers from December 1 – April 15. But because of the shade you enjoy almost the entire hike, this would also be a great choice for hiking in the summer, especially with your family. This is a great route for kids!
Getting there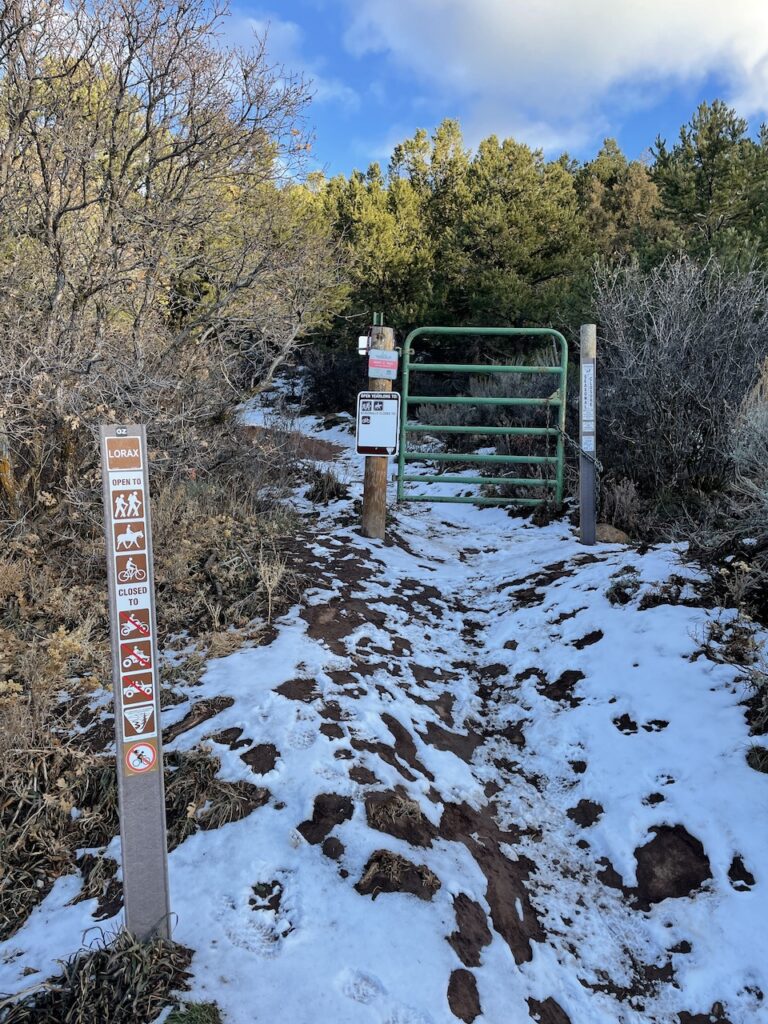 Hiking in Carbondale CO is great because most of everything is accessible near town — you don't have to go too far! The Lorax Trail is located on BLM land called the Thompson Creek Recreation Management area. The area consists of several trails, the Thompson Creek Campground and the Thompson Creek trail which is best known for its views of the rare geologic "fins" formations. A popular spot for climbing.
To access the Lorax Trail, drive from Carbondale, drive roughly three miles up Thompson Creek Road (CR 108) from the Colorado Rocky Mountain School. Turn left on the dirt road and the trailhead is just on your right.
Thompson Creek Road is actually where a lot of dispersed camping is available during the summer. It is also where I parked the van overnight.
There is a designated dirt lot for parking. The trail starts right from the parking lot.
The details:
Trail length: 3 miles RT
Rating: Moderate (according to AllTrails) and I would agree!
Elevation gain: 472 feet
Things to do in Carbondale
Hiking in Carbondale Colorado is great but exploring the town itself is even more fun! It's one of my favorite small mountain towns in Colorado. If you have time or are staying in town, there is plenty to keep you busy in the town of Carbondale. From their distilleries and breweries to their dedicated art scene, there are plenty of things to do in Carbondale. Plus, there are plenty of places to stay in Carbondale that don't require a tent!
*all images taken by me and are subject to copyright.